Pet Friendly Flooring
From scratch-resistant to easy-to-clean, this guide will help you find the best flooring for the pets in your home.
More than 6 in 10 of all U.S. households have a pet, but they can be tough on floors. To help you select a suitable floor to stand up to life with the animal members of your family, here's an overview of some of the most popular types of flooring — and how each might hold up with dogs, cats and other furry friends.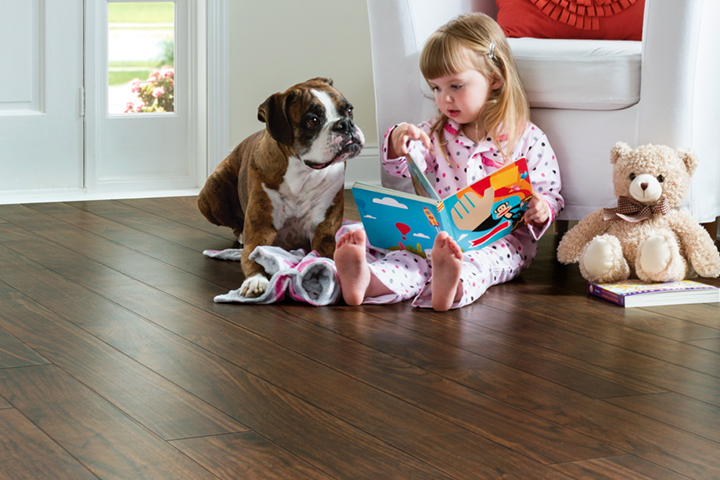 One of the biggest issues with pets and floors is scratching, especially if you don't keep nails trimmed. Even pets that don't actively scratch floors can still leave their mark just by walking, running or jumping around. Pets also shed and occasionally forget that they're housebroken.
But don't fret, we have good news: Even with a scratchy, furry, accident-prone pet at home, it can still be possible to have beautiful floors. You just need to find the right type!
Fortunately, many of our durable flooring options are both pet-friendly and big on style, so you don't need to pick one or the other. Whether you want the best flooring for dogs or the best flooring for cats, here are some options and considerations to keep in mind.
Vinyl flooring is a popular flooring option for families with pets. Luxury vinyl tile and vinyl sheet are highly durable, long-lasting, and resistant to moisture, scratches and dents. They are also easy to maintain. Vinyl tile is easy to clean, easy to install and affordable.
Whichever vinyl you choose, you're sure to enjoy this benefit: it's great for softening the sound of your pet's nails when they walk across the floor!
Luxury Vinyl Tile
Luxury vinyl tile is an excellent choice for homes with furry companions. Our American Charm 6 luxury flooring collection is one of the most resilient flooring products on the market featuring Diamond 10® Technology for long-lasting durability, easy cleaning and 100% waterproof planks which when exposed to water will not swell, buckle or lose integrity. See warranty for details. It comes in luxurious wood looks with a textured surface that's not only convincingly real but provides slip resistance to padded paws.
Vinyl Sheet
Vinyl sheet flooring is also a great option for homes with pets. This resilient flooring comes in a roll, so there are few seams and no grout, but you can still get highly realistic hardwood and natural stone styles. Our collection CushionStep™ Better, also include Diamond 10® Technology for superior scratch, scuff and stain resistance. This innovative protective finish also repels soil and spills, making clean-up incredibly easy.

Vinyl Tile
Vinyl tile flooring makes it easy to wipe away the little accidents left by housetraining puppies or the inevitable water bowl spills. And there's no need to sacrifice style for the convenience of an easy-care surface. Vinyl floor tiles come in a variety of patterns, colors and styles that closely resemble natural products like stone and ceramic tile.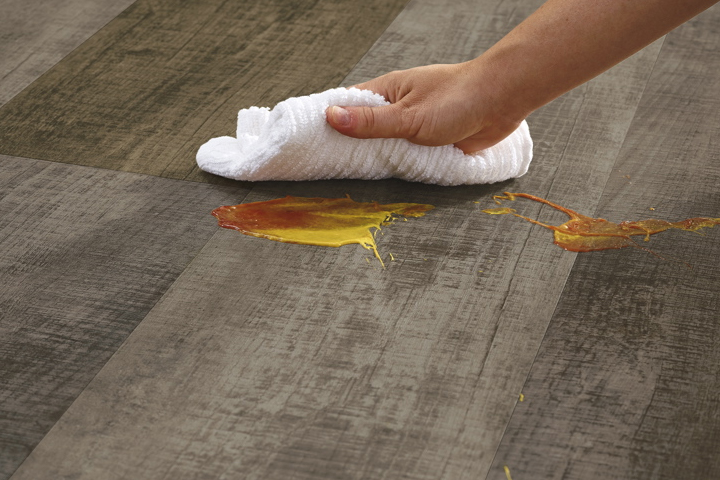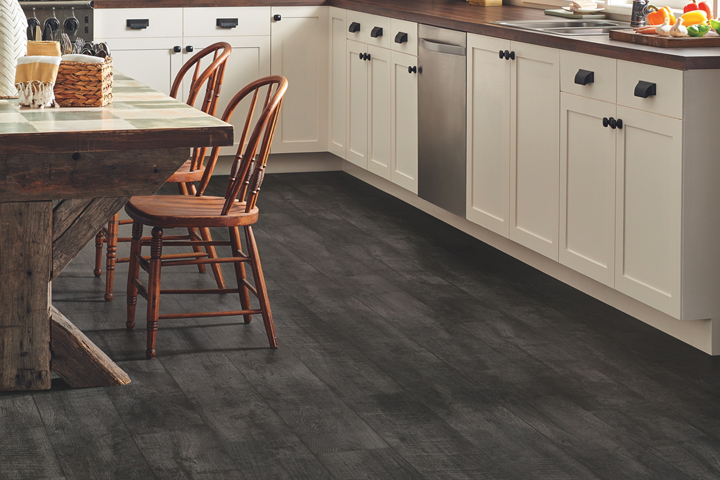 Rigid core flooring collections combine the best attributes of multiple flooring products for the ultimate in dent, scratch and stain resistance — plus they are 100% waterproof, so planks won't swell, buckle or lose integrity when exposed to water. Perfect for water bowl spills and wet-from-the-bath pups!
Not only are these floors durable, they also feature highly realistic, award-winning, on-trend designs. You can have flooring that works hard for the most active households (and energetic pets) and also meets your style demands.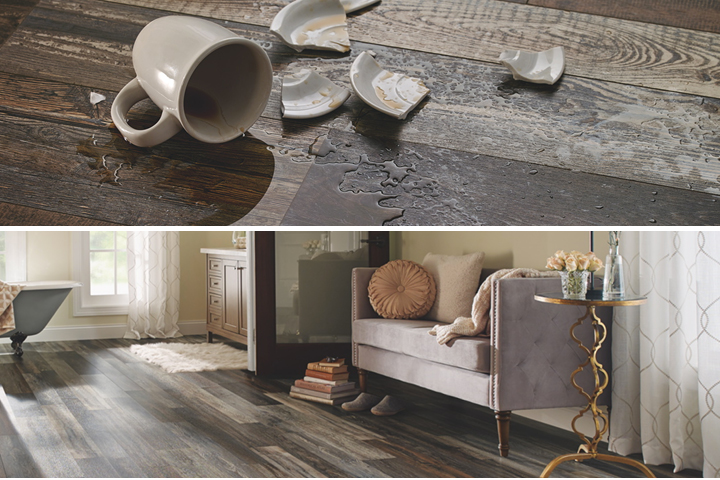 If you love the style and scratch resistance of natural stone or ceramic tile, but want something that feels more comfortable underfoot (furry ones included), our Alterna engineered tile collection is an excellent choice. Tiles are 70% limestone and can be installed with or without grout, so you not only achieve the authentic look and feel of traditional tile, but you will also have a surface that is much warmer and kinder to you and your pets.
Alterna's surface is stain-and-soil repellent for easy clean-up, and the tiles absorb sound, for a home that feels quieter, even with scampering paws. Plus, wet or dry, the textured surface of Alterna tiles are more slip-resistant than smooth ceramic tiles.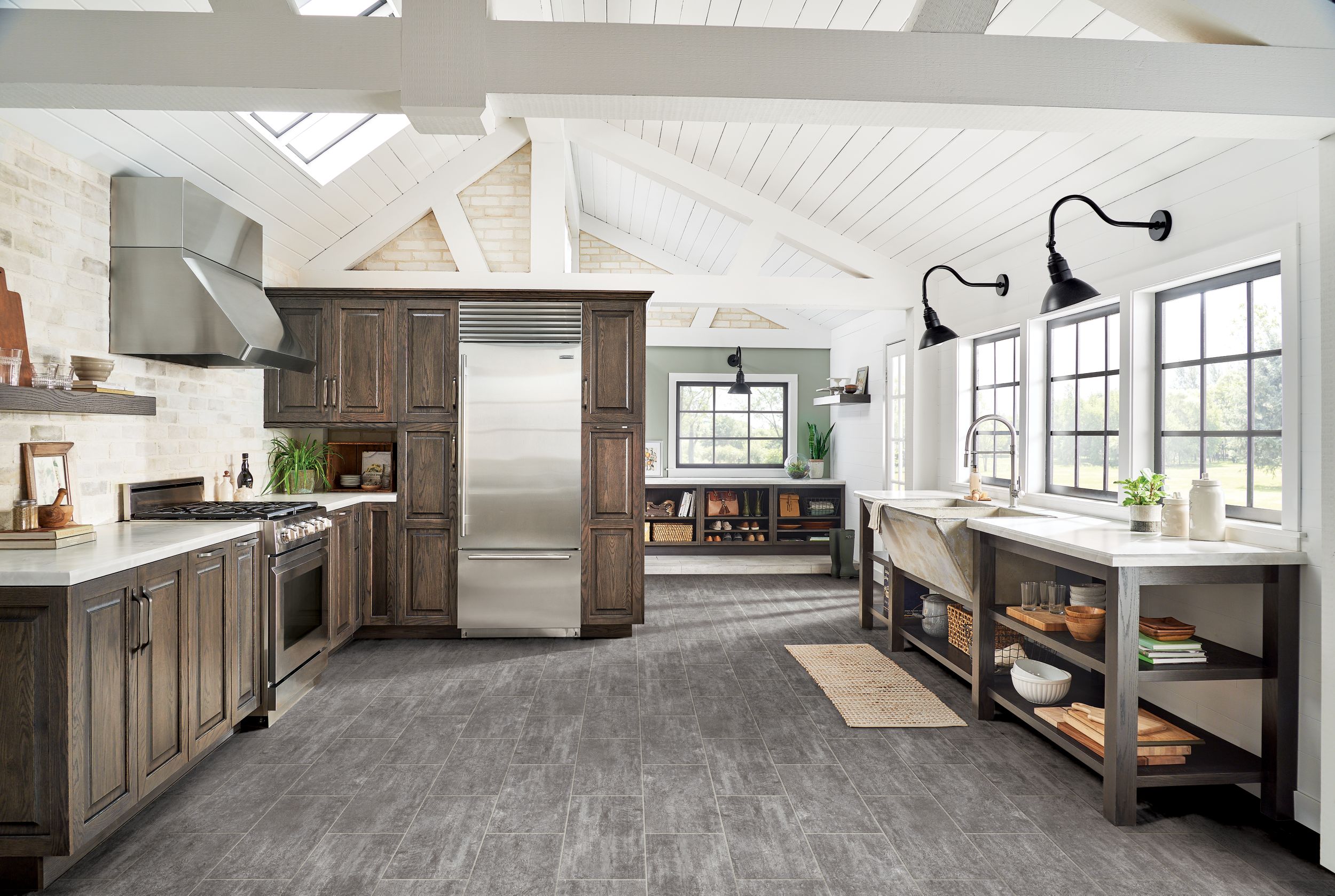 Engineered Tile, Forest Fog | D7199