Vinyl Tile Flooring Installation
For an easy, beautiful vinyl tile installation, follow these important tips.
Should you learn how to install vinyl tile, or is it better to hire a Pro? And what can you expect before, during and after installing vinyl tile? Learn the basics and download instructions. 
Know your installation options.
There are two different vinyl tile installation methods. Most products come with a peel-and-stick installation, where you simply remove the liner sheet from the back of the tile and stick the tile to the floor. We do offer select products that require a full-spread adhesive installation.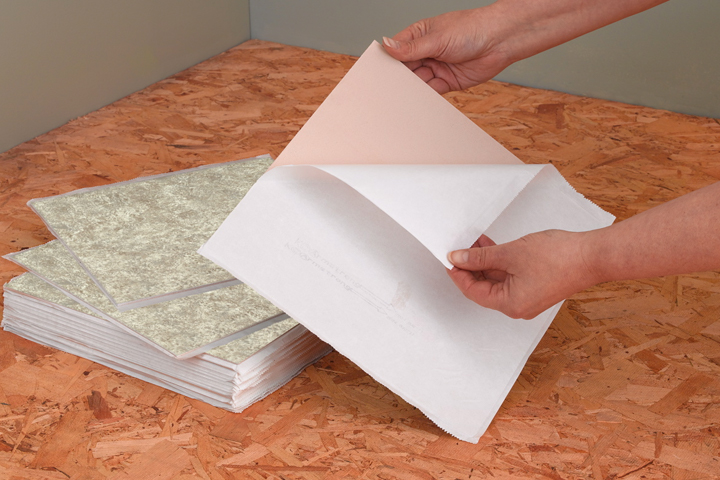 Consider any installation challenges.
Vinyl tile installation can be done anywhere in the house, so long as it's a flat, level surface, but we do not recommend installing on stairs.
Create an accurate budget.
Don't forget to account for things like removal and disposal of your old floor, subfloor repairs, additional tools and materials, and even the cost of moving furniture when budgeting for your project.
Decide whether to DIY or bring in a Professional.
Even if you don't already know how to lay vinyl tile, this is the easiest type of flooring to install. Even beginner DIYers may feel confident taking on this project, and no special tools are required.
Of course, challenges can arise with any flooring project, so if you want peace of mind that your flooring is installed correctly, consider hiring a Professional.
WHY HIRE A FLOORING INSTALLER?
Hiring a Pro? Find the best one for the job.
Ask your retailer to connect you to a local Armstrong Flooring Certified Installer. These contractors are exclusively trained to install our products, so you can rest assured that your new floor will not only look great, but will be installed correctly with guaranteed results.

Read the installation instructions.
Carefully review the detailed instructions for your flooring to learn what you'll need and what to expect. Do this well in advance.
Prepare the room.
Clear out furniture. Remove and dispose of old flooring if necessary. Gently remove any wall base, millwork or trim that you'd like to reuse.
Prepare the subfloor.
Be sure the floor you're laying over is dry, clean and flat. If repairs are needed, make those before starting the installation.
Gather additional materials and tools.
You won't need many special tools for installing vinyl tile flooring yourself. Your list will likely include a utility knife, carpenter's square and a 100 lb. roller, among other items. Check your installation instructions for specifics.
Acclimate flooring according to instructions.
Acclimation gives the flooring time to adjust to the environment of the room where it will be installed. Bring the installation area and materials to room temperature for 48 hours before installation.
Depending on the product you've chosen, instructions may vary. Read every step of the ones provided with your product before installing vinyl tile.
They outline important details and special considerations that might not be obvious, except to an experienced professional, including: subfloor requirements, room layout tips and working around irregular walls and trims.
If you or your professional installer has questions before or during installation, contact our Customer Service team.
Once your new floors are in place, clear tools and materials from the area. Then clean according to instructions with the recommended cleaner for vinyl floors. If you used adhesive, avoid heavy traffic for 72 hours while it sets.
---