Rigid Core Flooring Installation
We're breaking down the 3 varieties of rigid core flooring to help you make the right choice for your lifestyle.
Feeling overwhelmed and not sure where to begin when it comes to picking the right flooring for your space and lifestyle? Keep scrolling to learn the ins and outs of our rigid core flooring constructions and the level of peace of mind their benefits offer.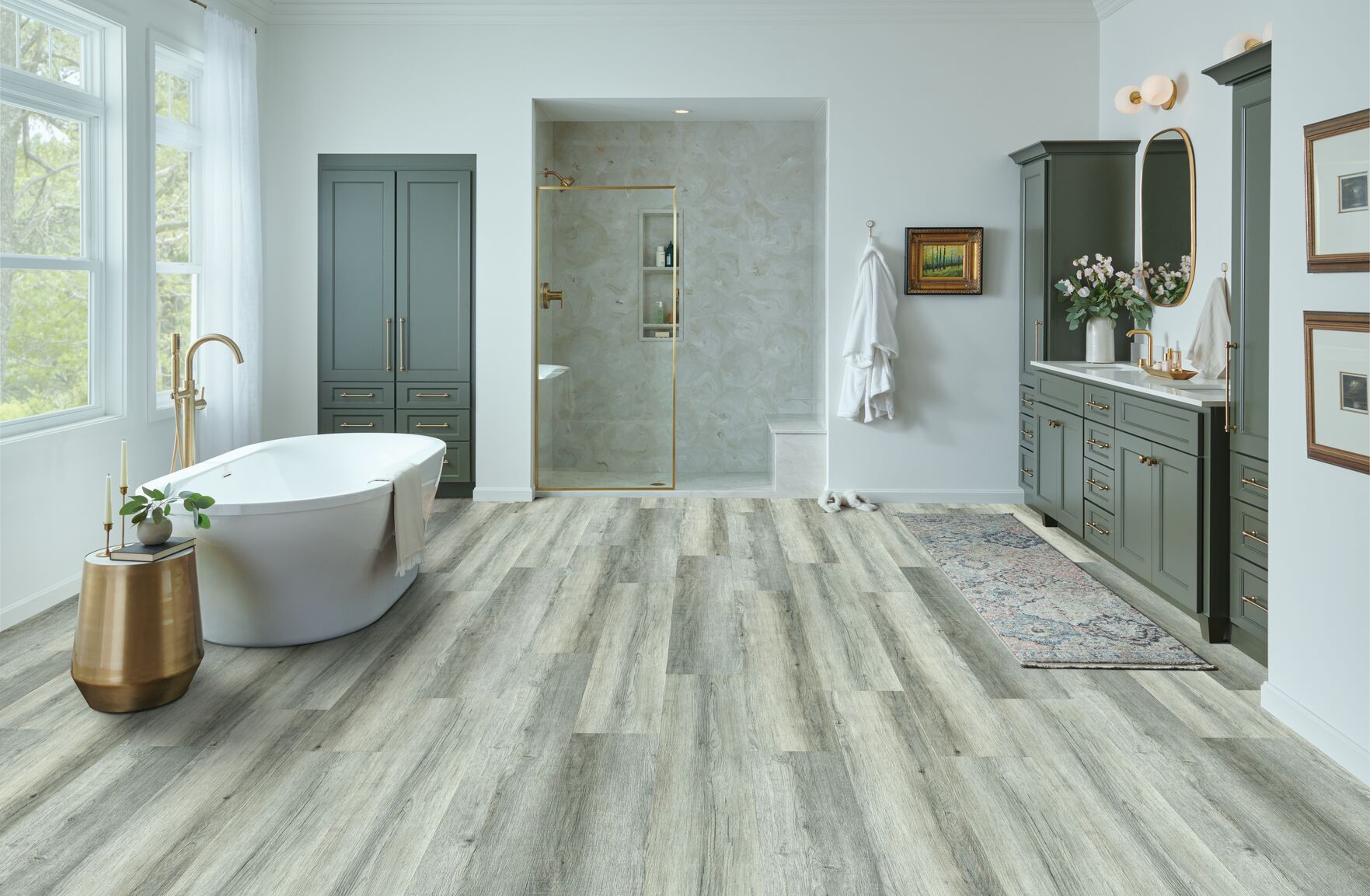 Lutea Rigid Core Collection, Misted Morning | AR5LS113
Installation Instructions
Know your installation options.
All of our rigid core hybrid flooring products feature a "floating floor" structure, meaning that instead of gluing or nailing the boards down, you will lock them together – side to side, end to end – creating a surface that "floats" atop the subfloor.
In some circumstances, you or your installer may prefer to use a full-spread adhesive, but it's not required. Some collection instructions may also recommend adhesive if expansion due to high sunlight exposure is a risk.
Consider any installation challenges.
If you have a less-than-perfect subfloor, you're smart to consider products with rigid core installation. Thick and sturdy planks come with an attached cork underlayment, making them perfectly suitable for installing over minor subfloor irregularities. Rigid core flooring can also be installed over large areas without transition strips.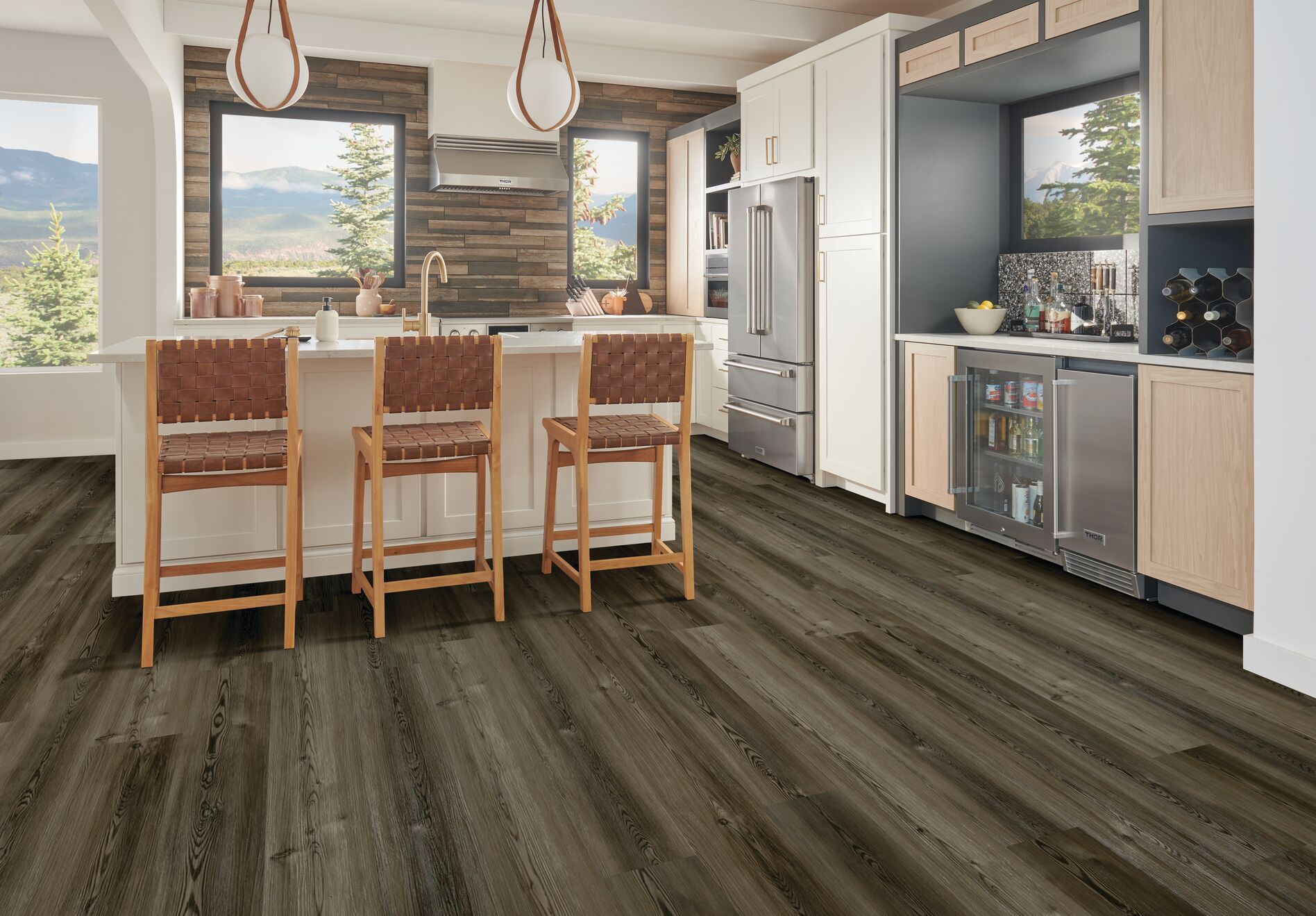 Lutea Rigid Core Collection, Misted Morning | AR5LS110
Create an accurate budget.
When budgeting for your project, don't forget to account for things like removal and disposal of your old floor, subfloor repairs, additional tools and materials, and even the cost of moving furniture.
Decide whether to DIY or bring in a Professional.
If you are an advanced DIYer or have done a waterproof floor installation before, you may decide to take on the project yourself — especially if it's on the smaller side, like a bathroom or laundry room (and no adhesive is required). Larger projects or glue-down installations may warrant help from a pro.
It's important to remember that regardless of your experience level, challenges can arise. If you want peace of mind that your flooring is installed correctly, we recommend hiring a professional flooring installer.
WHY HIRE A FLOORING CONTRACTOR?

Hiring a Pro? Find the best one for the job.
Ask your retailer to connect you to a local Armstrong Flooring Certified Installer. These contractors are exclusively trained to install rigid core flooring, so you can rest assured that your new floor will not only look great, but will be installed correctly with guaranteed results.

Read the installation instructions.
Carefully read through the instructions for the specific flooring you are installing. Do this well in advance (even before you buy!). The instructions go over each step and how to prepare. You'll also learn about specific scenarios that may require slightly different materials or additional steps to ensure a totally waterproof floor installation.
Prepare the room.
Clear out furniture. Remove and dispose of old flooring if necessary. Gently remove any wall base, millwork or trim that you'd like to reuse.
Prepare the subfloor.
Be sure the floor you're laying over is dry, clean and flat. If repairs are needed, make those before starting the installation.
Gather additional materials and tools.
Your list could include coordinated trims and moldings, safety glasses, a tapping block, pull bar, hammer, saw, caulk (for high-moisture installations) and other tools. Check installation instructions for specifics.
Acclimate flooring according to instructions, if necessary.
Most rigid core installations do not require acclimation. Review your installation instructions, because there may be certain circumstances, such as flooring being stored in extreme temperatures, when a short period of acclimation is necessary. This step gives the flooring time to adjust to the environment of the room where it will be installed.
Depending on the type of rigid core flooring you've chosen, installation instructions will vary. Read every step of the ones provided with your product.
They cover special considerations that might not be obvious, except to an experienced professional, including: subfloor requirements, trim preparation, establishing a starting point, and guidelines and materials for full bathroom installations.
If you or your professional installer has questions before or during installation, contact our Customer Service team.
Once your new floors are in place, clear tools and materials from the area and clean the floor with the recommended cleaner for vinyl floors. Do not wet mop your new floor for at least five days if you used a glue-down installation.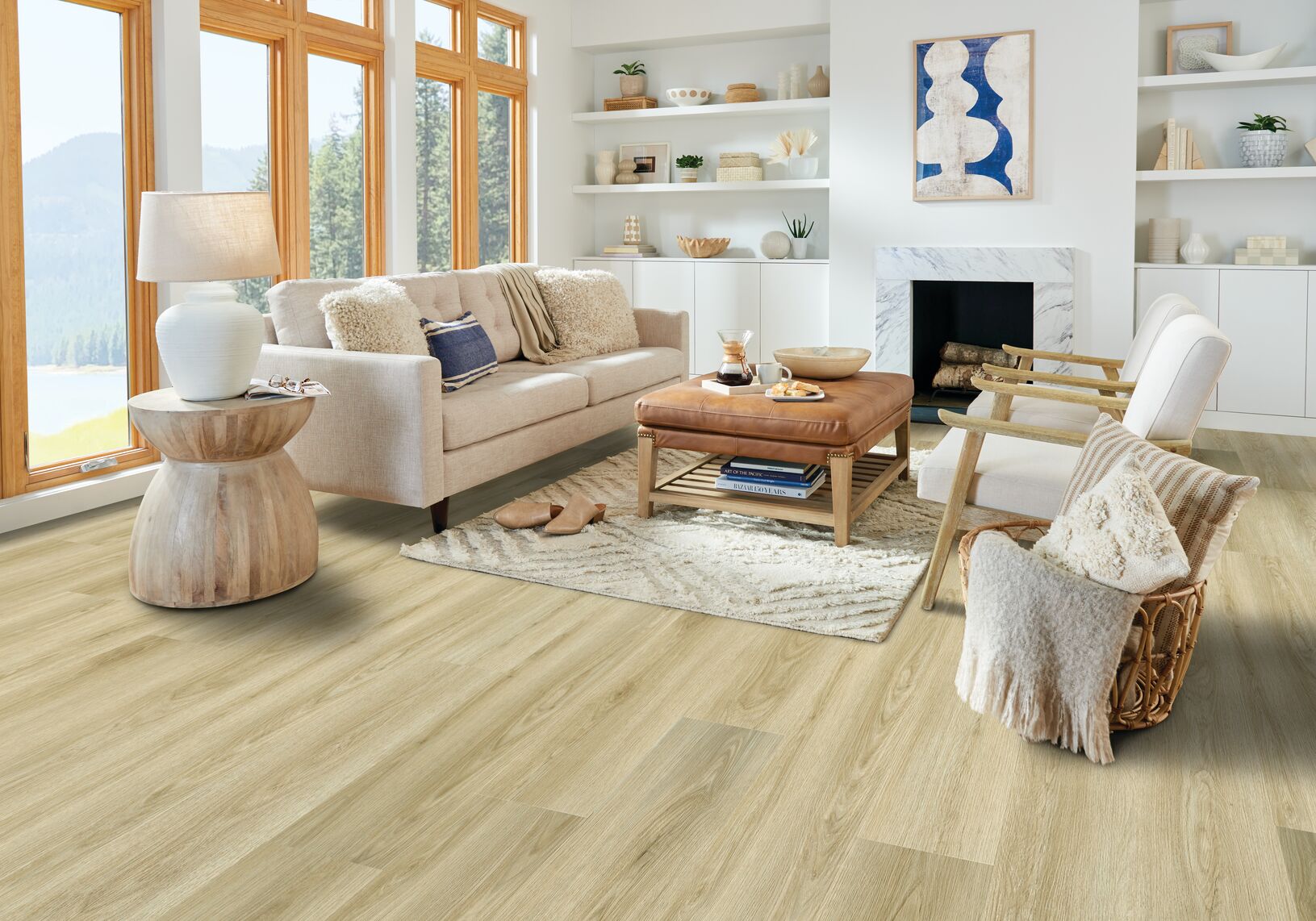 Lutea Rigid Core Collection, Misted Morning | AR5LS112
---