Vinyl Sheet Flooring Installation
Whether you hire a Pro or DIY, here's what you can expect from your vinyl flooring installation.
Want a high-quality, low-stress vinyl sheet installation? Prepare yourself by learning what's involved with the job — before, during and after the floors go in. 
Know your installation options.
Installation methods vary among vinyl sheet flooring products depending on the construction of the sheet.
Traditional fiberglass-backed and composite stone-backed products – You can choose a modified loose lay or a full-spread adhesive, and the adhesive can either be permanent or releasable.
Felt-backed products – These usually require a permanent full-spread adhesive, though select products can be perimeter bonded.
Refer to each product's specific installation instructions for details. Either visit the product's page on our website or download vinyl sheet installation instructions below.
Consider any installation challenges.
Vinyl sheet can be installed anywhere in the house, so long as it's a flat, level surface. We do not recommend installing on stairs. Your product's instructions indicate situations where one type of installation is preferred over another, for example, in bathrooms, rooms with floor drains or around cabinets.
Create an accurate budget.
Don't forget to account for things like removal and disposal of your old floor, subfloor repairs, additional tools and materials, and even the cost of moving furniture when budgeting for your project.
Decide whether to DIY or bring in a Professional.
The bulkiness and weight of the sheet roll combined with the challenge of cutting it perfectly to size, can make installing vinyl flooring more difficult than you might think. However, if you are an advanced DIYer who's up for a challenge, or you already know how to install vinyl flooring, you may feel confident taking on the installation yourself.
If you are beginner DIYer, or just want to save time and effort, we highly recommend hiring a Professional. You'll have the peace of mind that your flooring is installed correctly.
WHY HIRE A FLOORING CONTRACTOR?
Hiring a Pro? Find the best one for the job.
Ask your retailer to connect you to a local Armstrong Flooring Certified Installer. These contractors are exclusively trained to install our products, so you can rest assured that your new floor will not only look great, but will be installed correctly with guaranteed results.

Read the installation instructions.
Carefully review the detailed instructions for your flooring to learn what you'll need and what to expect. Do this well in advance.
Prepare the room.
Clear out furniture. Remove and dispose of old flooring if necessary. Gently remove any wall base, millwork or trim that you'd like to reuse.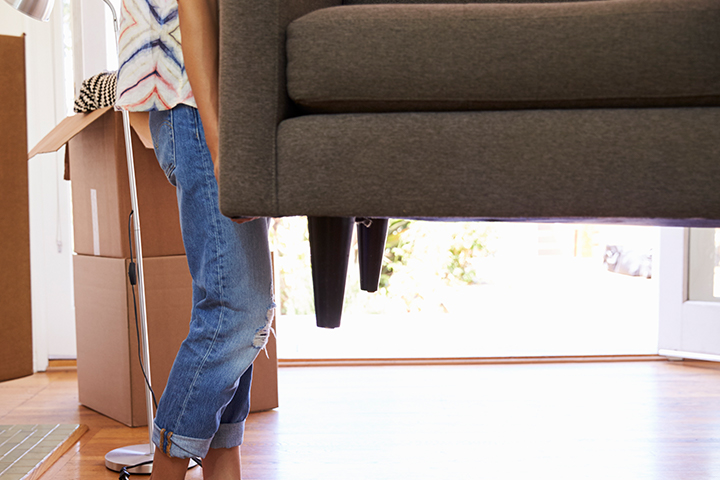 Prepare the subfloor.
Be sure the floor you're laying over is dry, clean and flat. If repairs are needed, make those before starting the installation.
Gather additional materials and tools.
Your list could include adhesive, double-faced flooring tape, a vinyl cutting knife, a 100 lb. roller and other tools. Check your installation instructions for specifics.
Acclimate flooring according to instructions, if necessary.
Most vinyl sheet flooring does not require acclimation. Simply unrolling it just prior to installation so it can adjust to the environment is sufficient, and also allows the roll to relax and flatten out. Review your installation instructions, because there may be certain circumstances, such as extreme temperatures, when a short period of acclimation is necessary.
Depending on the type of vinyl sheet floor you've chosen, installation instructions will vary. Read every step of the ones provided with your product.
They outline important details and special considerations that might not be obvious, except to an experienced professional, including: subfloor requirements, handling seams, and cutting and fitting methods.
If you or your professional installer has questions before or during installation, contact our Customer Service team.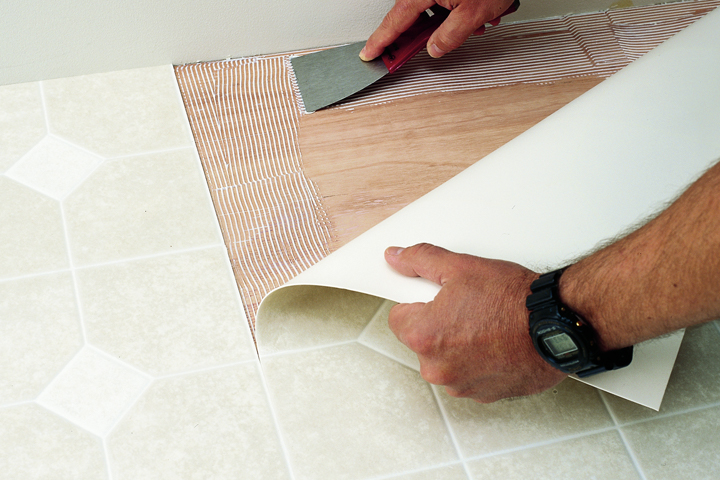 Once your new floors are in place, clear tools and materials from the area. Clean and seal seams according to your instructions, then clean the floor with the recommended cleaner for vinyl floors.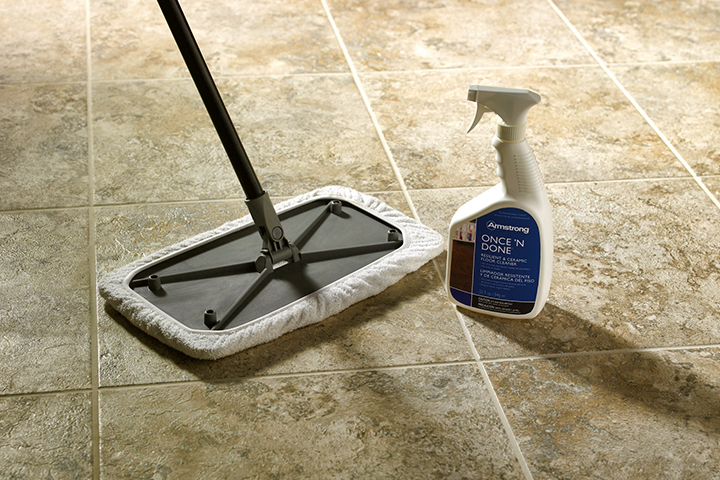 ---