Decorating with Patterned Flooring
Get patterned flooring ideas and create a dramatic first impression.
Redesigning a space? Let your flooring inspire the look, not the other way around! Think about introducing patterned flooring into your room design. Distinctive natural stone and wood characteristics, or creatively arranged tiles and planks could really make your room stand out.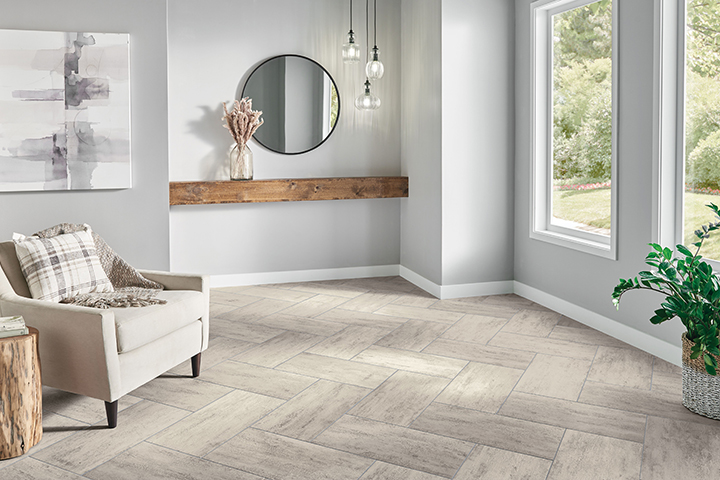 Patterned flooring is a unique and stylish way to catch the eye and add interest to a room. And you can achieve a unique look with a variety of flooring types and styles.
Patterned Flooring with Stone and Slate Looks
The stylish elegance of stone and slate is easy to bring home in most of our flooring categories: engineered tile, luxury vinyl tile, laminate, vinyl sheet or vinyl tile. Incredible realism and dramatic natural color patterns emerge from the random clefts, mineral veining, and scale variations that look just like what you find in nature — but without the cold, hard qualities of natural stone.
Rely on the natural color patterns in these stone-look tiles, or enhance the visual interest of your room by customizing your own pattern or choosing a style that designed with an interesting design.
Place same-sized square or rectangular luxury vinyl tiles in a staggered design to add geometric interest to your space.
Create vinyl patterned flooring by installing vinyl tiles on the diagonal instead of square with the walls, or alternate two different stone-look tiles in a checkered pattern.
Combine two or more different sized Alterna engineered tiles and arrange them randomly, in a herringbone, basketweave or windmill pattern. We offer a wide variety of sizes and color shades in a single design, to make creating patterns really easy.
Choose vinyl sheet for an array of stone patterns that don't require any extra work to plan out — they're already designed in a single sheet with the pattern in place! We offer products with alternating colors, cobblestone style prints and staggered or basketweave patterns.

To see more pattern options, download Alterna Pattern Possibilities.
 
Checkerboard Pattern
Add interest under your feet with a checkerboard floor. Try the iconic black-and-white pattern in vinyl sheet or vinyl tile to create an elegant backdrop or a retro centerpiece. Or spin the style with a mix of two different shades of the same color, which you can accomplish with any tiled flooring — luxury vinyl, engineered tile and vinyl tile.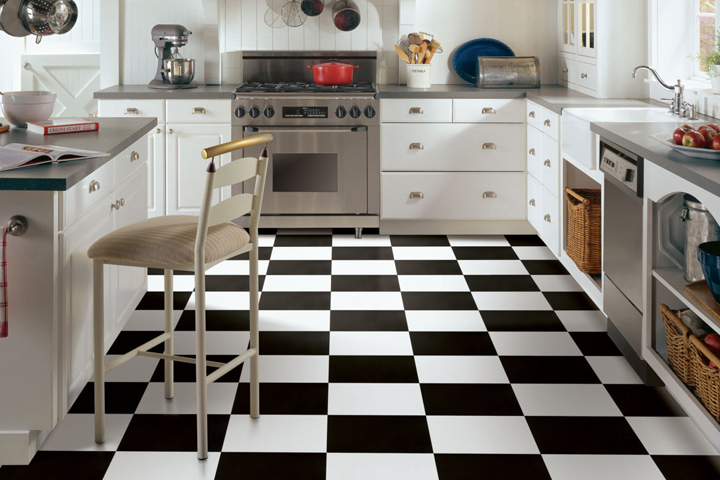 Alterna Collection, Betcha Black & White | D4101 & D4100
Whether you choose vinyl or engineered tile — and whether you find your pattern inspiration in the natural wood or stone characteristics or in a design of your own making — you'll find that flooring can flooring can be an easy way to make a one-of-a-kind design statement.