Vinyl Tile Flooring
Vinyl tile is a durable, low-maintenance and affordable flooring that's quick to install, and can be used in any room of the home. It's so easy you can have great-looking new floors in a single weekend – even if you do it yourself!
What to Know Before You Shop
Vinyl tile is the perfect, cost-effective way to give any room a quick-and-easy makeover and it's a flooring favorite for utility areas, kitchens, mudrooms, bathrooms and playrooms — or any flat and level surface other than stairs.
Color & Style
Vinyl is versatile, so whatever your personal style, you can probably find a tile to match.
Size
Most styles come in standard 12" x 12" tiles, but you can also find designs in larger square tiles or even wood-look planks.
Color
Lots of variety here: solid or patterned black-and-white tiles, wood stains of many shades, and stone-inspired designs in a spectrum of natural hues.
Gloss
Do you prefer a polished or matte look? Choose from styles with low, medium or high gloss levels.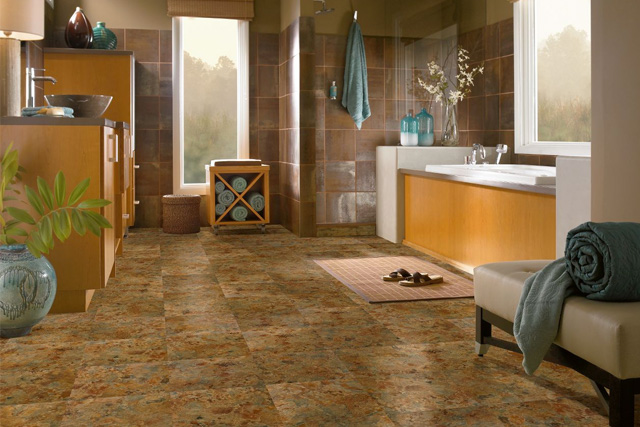 Vinyl Tile - Patina Shale | A3101
Installation
Vinyl tile offers two installation methods:
Peel-and-stick
No glue is needed. Simply remove the liner sheet and stick the tile to the floor.
Full-spread adhesive
Spread tile adhesive over the subfloor with a trowel before laying down tiles. While it requires a bit more effort and skill, this method might be worthwhile since it tends to provide a firmer hold.