How to Choose the Best Engineered Tile Floor
Shopping for a grouted tile floor? Learn the basics about engineered tile, the perfect choice over porcelain, stone, and ceramic tile.
If you aren't familiar with engineered tile flooring, these Q&As will help you confidently decide whether it's a good fit for your home. Then comes the fun part: narrowing down all those beautiful styles to find the best engineered tile flooring for you!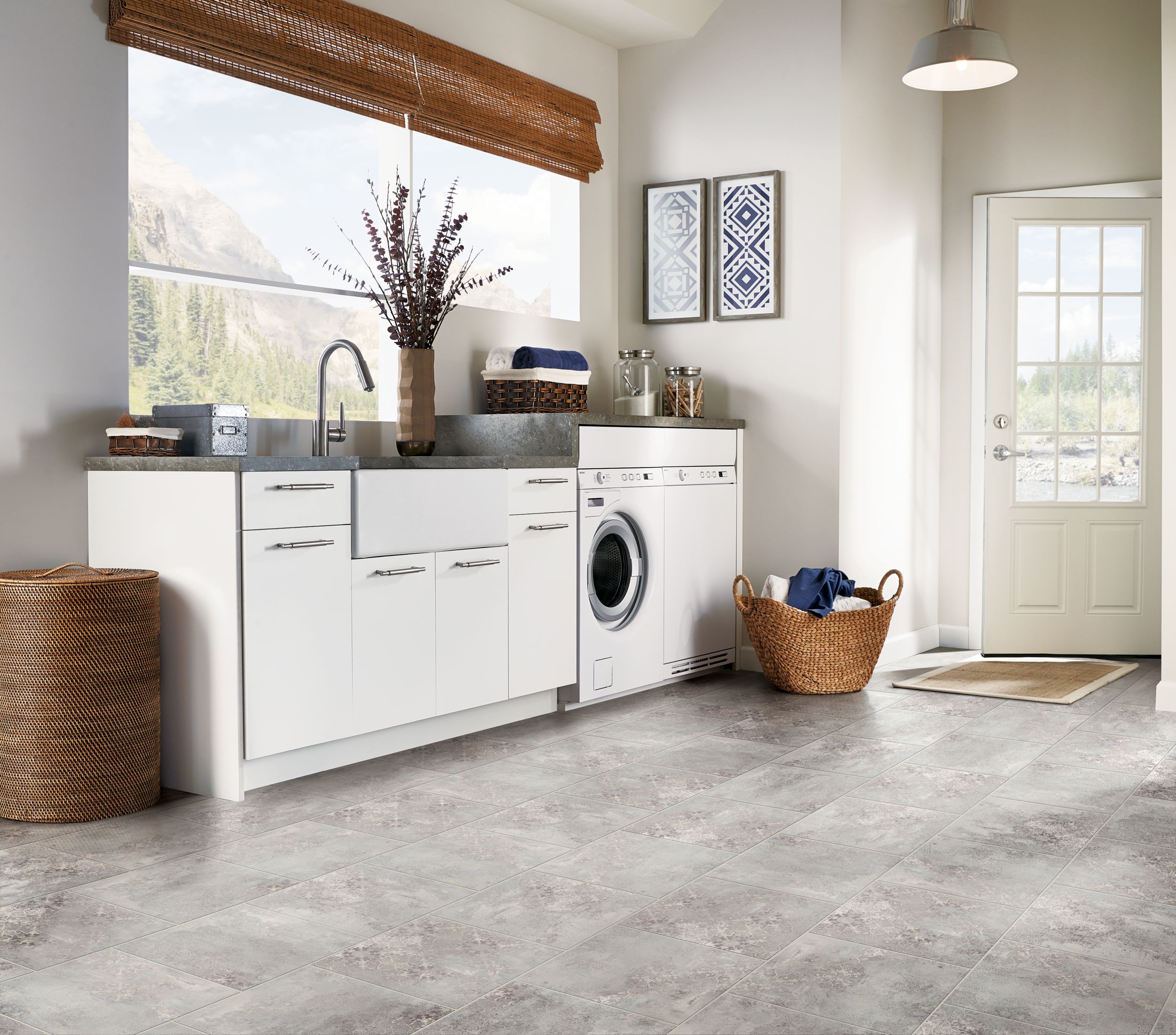 Alterna Collection, Lost Empire, Amber Sagebrush | D4027

What is engineered tile?
Engineered tile is the perfect choice over natural stone, ceramic and porcelain tile, with a much warmer, more comfortable surface.
Alterna, the name of our engineered tile collection, is superior to ceramic and porcelain. It's built on a stone composite base to give it strength, with the rest of the materials providing a level of resilience that sets it apart from ceramic and porcelain. For example, it isn't susceptible to cracking when installed over minor subfloor irregularities (or when something is dropped on it).
Does engineered tile look like traditional tile?
It sure does! Engineered tile designs are inspired by natural materials, and the best engineered tile styles, like our Alterna collection, have high levels of design realism. Our exclusive manufacturing technology also produces dramatic tile-to-tile variation.
All of the designs within each collection can be installed with grout for an even truer stone or ceramic tile look. They can also be installed without grout, for a simpler install that provides a more seamless look — a benefit not available with traditional tile.
What are the benefits of engineered tile over natural stone or ceramic?
Many people love the luxurious, high-end look of a natural stone, ceramic or porcelain tile floor, but there are drawbacks. Fortunately, engineered tile is a great alternative.
More Comfortable
Traditional tiles have a hard, cold, unforgiving surface that can be uncomfortable to stand on. Engineered tile looks like natural stone or ceramic tile on the surface, but it's actually warmer to the touch and softer underfoot. In rooms where you're on your feet the most — kitchens and bathrooms — you'll appreciate having a floor that's kinder on the feet.
Resists Cracks
If something hard falls on a natural stone, ceramic or porcelain tile floor, you're stuck with an unsightly crack that's difficult and costly to repair. Engineered tile is more tolerant of drops and accidents and is not susceptible to cracking due to minor subfloor irregularities. And if for some reason a tile is damaged, engineered tiles are much easier to replace.
Faster Install
Engineered tile is faster, easier and cleaner to install than natural stone, ceramic or porcelain. With engineered tile, it's possible to be done in a day with less mess, but it can take as long as 3 to 5 days to install traditional stone tile.
Easy Maintenance
Engineered tile is easy to clean, and highly resistant to stains and scratches. No wonder this is a popular flooring for active households!
What kind of looks can I achieve with engineered tile?
A range of natural styles and colors
Engineered tile flooring captures the beauty of the natural world in exquisite detail, for looks that range from cool and polished to warm and cozy.
With our Alterna collections, you can choose from a wide variety of looks: slate, travertine, marble, terracotta, quartz — even woods, metals, concrete and linen. Colors range from smooth, crisp whites to warm browns and sleek, modern grays.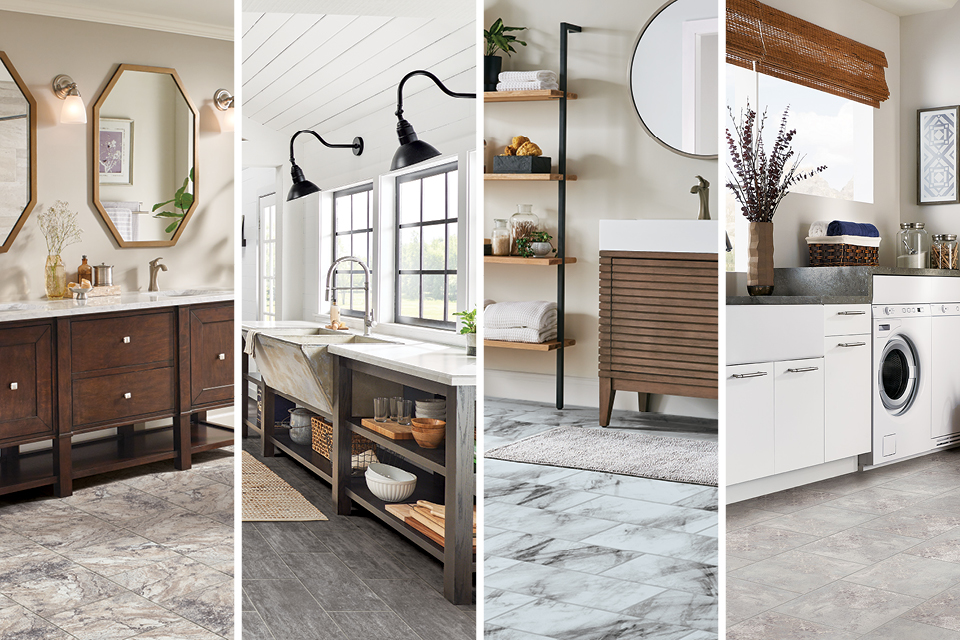 Several size options
Most engineered tile styles are available in a variety of sizes, depending on the particular style: 16" x 16", 12" x 24", and 8" x 16".
Can I install engineered tile myself?
Yes you can. Engineered tile is much faster, easier and cleaner to install than natural stone, ceramic or porcelain tile, making DIY installation an option for many people. It also requires fewer specialty tools: just a utility knife for easy cutting, and a trowel for the adhesive and grout.
Traditional tile can take as long as five days to install. It requires mixing the adhesive and grout yourself, spreading and placing tiles in small sections at a time, using specialized tools like a wet saw, and waiting as long as 24 hours between steps.
With Alterna, everything is premixed and ready to spread, and you can work in large sections using nothing more than a utility knife and a trowel. Then, when tiles are placed, you can walk on them immediately. The whole process can be done in a day!
Of course, any flooring installation can be a challenge if you've never done it before. We do offer tips and step-by-step instruction and support. And if you'd prefer a professional installation, you might find it worth your while. You'll likely still benefit from engineered tile's faster installation by saving on time and labor!
Can engineered tile be installed with grout?
Absolutely. Or it can be installed without grout. It's your choice, depending on the look you want to achieve. We offer coordinating grout for every tile style, and it comes premixed and requires no sealing.
How long will my engineered tile flooring last?
The best engineered tile flooring is built for high performance and a lifetime of beauty. Ours definitely falls into that category: every Alterna™ product comes with a Lifetime Limited Residential Warranty.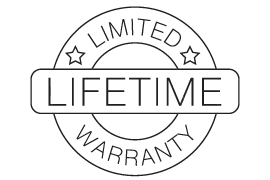 Ready to Explore?