How to Choose the Best Vinyl Tile Floor
What to know as you shop for vinyl tile flooring.
With so many flooring options out there, it can be tough to decide which one is right for you. Vinyl tile is one of the more affordable and DIY-friendly options — if you're considering it, here are a few things to know. 
What is vinyl tile?
Vinyl tile is typically available in 12" x 12" tiles and is one of the best values in flooring. It's affordable, durable for everyday wear, and is easy to care for. It's also a DIY favorite since it can be super easy to install, even if you've never done it before.
Vinyl tile flooring has a durable, layered construction that consists of three layers:

Protective clear film layer to protect against rips, tears and gouging
Printed design layer with realistic colors and patterns
Structural vinyl backing for strength and durability

Where can vinyl tile flooring be installed?
Vinyl tile is a versatile flooring for any room, as long as the surface is flat and level. However, it cannot be installed on stairs.
Most people prefer vinyl tile for utility areas, kitchens, mudrooms, bathrooms and playrooms, but you can certainly install it in any room you like.
How do you install vinyl tile flooring?
Vinyl tile has a peel-and-stick installation, making it the easiest and fastest flooring to install and a popular choice for homeowners who want to do it themselves. All you do is remove the liner sheet and stick the tile to the floor. No glue is needed.
Armstrong Flooring offers plenty of tips and step-by-step instructions to support DIY installers.
VINYL TILE FLOORING INSTALLATION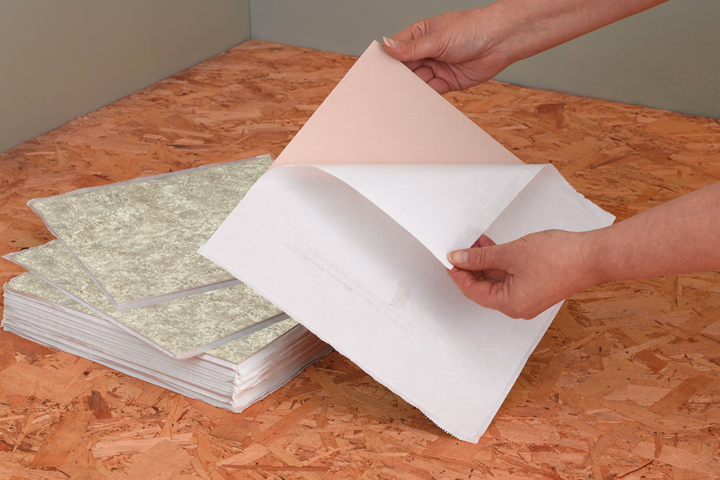 What is the best vinyl tile flooring for durability?
Generally, vinyl tile is very durable and forgiving of kids, foot traffic and dropped objects in normal household use. But exactly how much wear and tear vinyl tile can handle really depends on what product you choose.
For example, our warranties on vinyl tile range from 5 year residential to lifetime residential, depending on the specific product. Ones that are warranted for longer periods are going to be your more durable options.
Looking for something more durable? Consider engineered tile. Armstrong Flooring's Alterna collection is backed by our lifetime warranty.
What are my vinyl tile style options?
Are you going for a retro or modern look? Traditional or trendy? With a pretty diverse variety of looks to choose from, it should be easy to find the best vinyl tile flooring to match your home's existing decor.
Here are some of the options you'll be able to choose from:
Look – Vinyl tile is a simple and cost-effective way to get looks that resemble stone tile or geometric porcelain designs, or to create classic parquet or checkerboard looks. For the most realistic visuals, look for tiles that are embossed so the design matches the feel.
Pattern – Get creative and play with patterns. Arrange patterned tiles in alternating directions to create an entirely new design, or combine two different tiles in a checkered pattern.
Size – Most styles come in standard 12"x12" tiles.