How to Choose the Best Vinyl Sheet Floor
Intrigued by vinyl sheet? Before you shop, get answers to these 10 common questions.
Innovations in design have made it possible to get affordable vinyl sheet flooring that lasts for years — and for it be so stylish you'll be thrilled to keep it that long! To help you begin your search for the best vinyl sheet flooring, let's review some basics.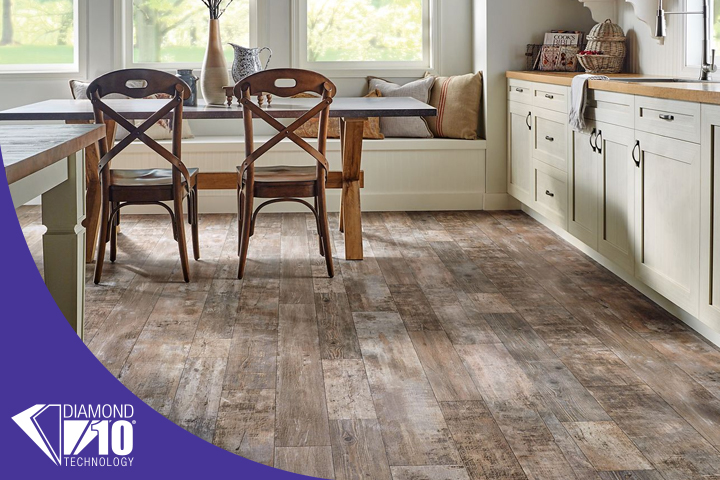 What is vinyl sheet flooring?
Vinyl sheet is often used as an alternative to natural stone, ceramic tile or even hardwood, especially in rooms like kitchens, laundry rooms and bathrooms that are more susceptible to moisture. The layered construction provides stability, cushioning and a protective finish for durability.
It comes in a 12-foot-wide roll, which the flooring company will cut to size. Depending on the size of your room, you may just need a single roll, but regardless, this type of flooring leaves few (if any) seams.
Can I get vinyl sheet flooring that looks like hardwood or natural stone?
Most people think vinyl sheet, then envision kitchens of decades past. Well things have definitely changed. Innovative technology allows us to create vinyl sheet styles with visuals and texture so realistic they can be mistaken for real hardwood, ceramic or stone flooring. Homeowners with great taste are opting for premium vinyl sheet over other flooring types for its winning combination of realism, on-trend stylishness and practical durability.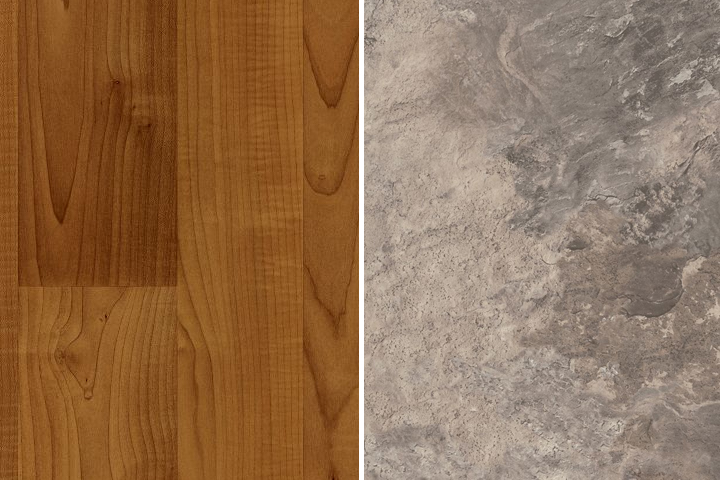 What are my design options for vinyl sheet flooring?
"Natural realism" is a popular trend in vinyl sheet flooring. Lots of homeowners want to capture the look and feel of objects found in the natural world, but also have the stress-free maintenance of vinyl.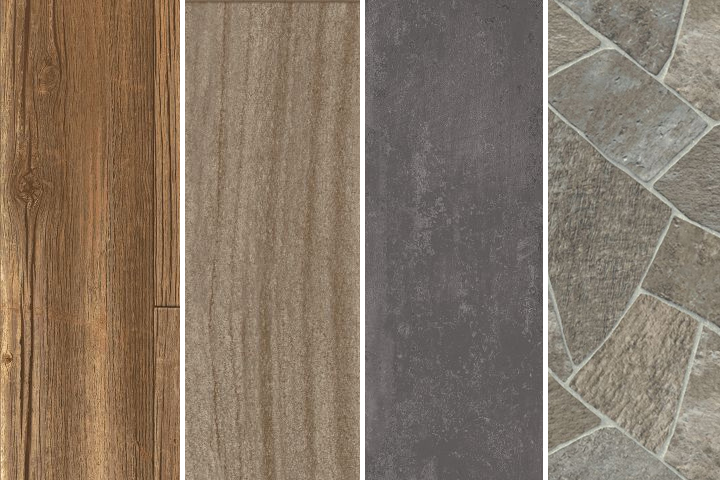 Range of Color Options
There's no shortage of color options in vinyl sheet floors. For looks inspired by natural materials, like hardwood, stone and slate, you'll find shades of white, beige, red, orange, brown, green, blue and gray. Alternative looks like geometric patterns and black and white checkerboard are also available.
Trending Styles
These days, many vinyl sheet flooring collections have improved color clarity and embossing that creates texture to match the visual. It's what makes many wood-look or stone-look vinyl sheet floors actually look close to the real thing.
The level of realism in some of these collections is truly amazing. And so is the range of on-trend styles you can achieve:
Traditional hardwood
Exotic wood species
Rustic and distressed wood
Weathered wood
Limestone
Sandstone
Slate
Decorative geometric patterns
Checkerboard
Where can I install vinyl sheet flooring?
Versatile vinyl sheet flooring is great for any room in the house. You can install it on any level of the home — above, on or below ground. It's an especially good choice for high-traffic areas like kitchens and playrooms, or moisture-prone areas like bathrooms and laundry rooms. Vinyl sheet is meant for flat, level surfaces. Sorry, no stairs!
What is the best vinyl sheet flooring for an active home?
Are your floors under constant assault by sneakers, spills and sloppy kids? Fear not. Vinyl sheet has experienced a performance revival, so now a whole new level of flooring protection is possible.
Our CushionStep collection is infused with our revolutionary Diamond 10 Technology that makes floors more scratch resistant than competitive products. It also repels spills and resists dirt, scuffs and stains for effortless cleanup.
Best-in-Class Performance

How long does vinyl sheet flooring last?
Vinyl sheet can be quite durable. In fact, many Armstrong Flooring vinyl sheet products are warranted for 25 years residential use. For flooring that's built to last the longest, look for vinyl sheet collections that have the strongest scratch, stain and wear resistance — like those featuring the added durability of Diamond 10® Technology.
Is vinyl sheet comfortable to stand on?
Vinyl sheet is softer underfoot than other hard-surface flooring options, making it much easier to stand on for long periods of time. It's also warmer to the touch than harder surfaces like ceramic or stone tile. If comfort is a priority for you, look into vinyl sheet options that have an additional layer of cushioning, like Armstrong Flooring's CushionStep™.
What maintenance can I expect with vinyl sheet floors?
Caring for a vinyl sheet floor couldn't be simpler, since there's no grout and few (or no) seams. Armstrong Flooring with the extra protection of Diamond 10® Technology is also very resilient to stains and scuffs, so when something spills, or a marker gets into the wrong hands, a quick wipe is usually all that's needed. As for everyday cleaning, a regular sweep and occasional mop will do the trick.
Is vinyl sheet flooring easy to install?
It's a common misconception that because vinyl sheet comes in a big roll instead of stacks of individual tiles or planks, that it's super easy to install. All you have to do is unroll it, right?
Depending on your experience level, it can be more difficult than it sounds due to the bulkiness and weight of the rolls. Cutting it perfectly to size can also be challenging. The upside: vinyl sheet can install over almost any existing floor type, provided it is smooth, flat and dry.
For the best results, we highly recommend considering an Armstrong Certified Installer. But since we'd never deter a DIYer who's up for a challenge, we offer plenty of great support with tips and step-by-step instructions.
What are my installation options for vinyl sheet flooring?
We give you two options for installing vinyl sheet from Armstrong Flooring. The method you choose will depend on your personal preference and what installation method the product might require. For example, Armstrong Flooring's fiberglass and StrataMax products can be installed using either method, while felt-backed vinyl sheet can only be installed using full-spread adhesive.
Modified Loose Lay – Vinyl is cut in place and held down in heavy traffic areas with double-sided tape.
Full-Spread Adhesive – You spread either a releasable or permanent adhesive over the subfloor or existing floor, then lay down the sheet vinyl.
Of course there's always the option of professional installation, which you may find is worth the additional cost if you aren't an experienced DIYer. 
Ready to Explore?