How to Choose the Best Luxury Vinyl Tile Floor
Learn the basics on design, durability and installation before you pick the best LVT flooring for your needs.
As you begin exploring whether luxury vinyl tile is right for your home, you'll quickly find there are tons of options to choose from. But where to begin? These Q&A will give you an idea of what to expect, and make it much easier to find the best luxury vinyl tile flooring for your needs.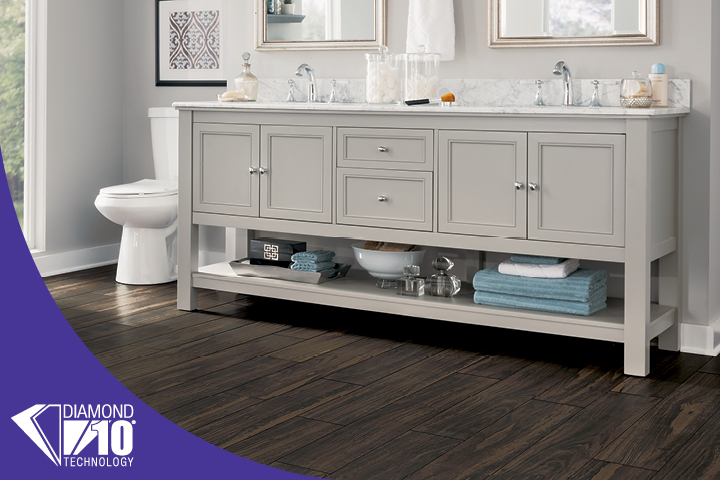 Vivero Better Collection, Goncalo Aves - Onyx | U4051
What is luxury vinyl tile (or LVT) flooring?
Luxury vinyl tile, which is also referred to as "LVT" flooring, is great if you have an active home with kids or pets, or just high-traffic areas you want to keep looking beautiful.

You've probably heard of vinyl tile, the popular peel-and-stick flooring. Luxury vinyl tile is similar in its construction — a wear layer, an image layer, a resilient core and backing — but it's generally thicker, and offers greater levels of durability and design realism than vinyl tile. Many styles, including those offered at Armstrong Flooring, are also 100% waterproof, so when they are exposed to water they won't swell, buckle or lose integrity.
Is luxury vinyl tile durable?
Yes, very. Luxury vinyl tile is built to endure the busiest homes. All of our LVT flooring at Armstrong Flooring is scratch, stain and wear resistant, and 100% waterproof.
Many of our LVT flooring products have a lifetime warranty, and we also offer products with 30-year and 15-year warranties.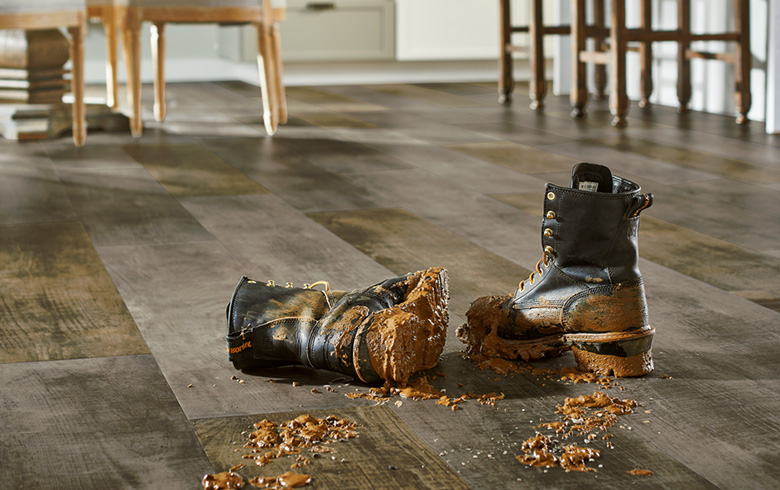 What is the best luxury vinyl tile for durability?
Armstrong Flooring's Vivero Best collection offers a lifetime warranty and the additional protection of Diamond 10 Technology, our diamond-hard finish that resists scratches, scuffs, dirt, spills and stains better than competitive products, and allows for effortless cleanup. It's available in hardwood and stone plank styles.
The Vivero Flooring Challenge

Where in my home can I install luxury vinyl tile?
The wonderful combination of design options, easy installation and good value make luxury vinyl tile a flooring favorite for gathering spaces and utility areas, kitchens, mudrooms, bathrooms and playrooms. But its incredibly realistic and on-trend styles also mean this flooring type is becoming more and more popular in all rooms of the house. Living rooms and bedrooms included!
Luxury vinyl is not meant for stairs, but for any and all flat, level surfaces.
Is luxury vinyl tile an alternative to hardwood?
Yes! Homeowners especially love that you can get really authentic looking wood styles, and have them be durable enough for rooms where moisture can be a concern. Where hardwood is not recommended for installation in bathrooms and laundry rooms, LVT flooring is waterproof so it makes a great (and great looking) flooring for those areas.
Is luxury vinyl tile an alternative to ceramic?
Yes! People love the fact that luxury vinyl feels warmer and softer underfoot than hard-surface flooring like ceramic tile. It's a super friendly surface for normal household use: lots of foot traffic, crawling kids and pets, dropped dishes and spills, to name a few. Plus, the stone tile styles that are available (including marble, slate and travertine) look and feel incredibly real, but won't give you the same problems as natural stone: potential for cracking over uneven subfloors and having to maintain grout lines..
What styles can I get with LVT flooring?
The beauty of luxury vinyl tile is how versatile it is. It's truly possible to achieve a look that mimics hardwood or natural stone, but with the performance you're seeking from a vinyl floor. Great care is taken during the design process to create visuals and textures that mimic the real thing.
Here are some of the looks you'll be able to choose from as you start your search.
Realistic looking wood species – Everything from traditional Oak, Walnut and Birch to true-to-life exotic woods with dramatic grain patterns
Texture and finishing effects – Weathered white-washing, liming and rough-hewn reclaimed looks
Classic stone styles – Marble, slate and travertine tiles and concrete-inspire planks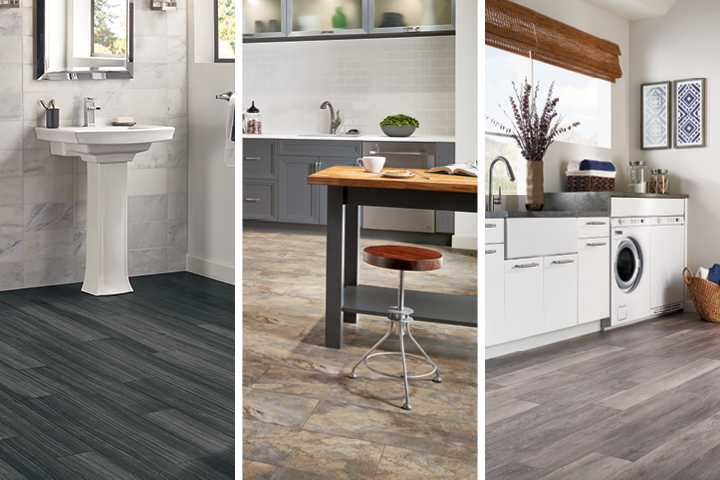 Where can I find the best luxury vinyl tile for my style?

Armstrong Flooring offers some of the most chic and on-trend luxury vinyl styles. Browse your options, then visit a local retailer to get started.
Luxe Plank with FasTak Install offers 6" to 7" wide wood-look planks in traditional, exotic and rustic styles, as well as concrete-inspired designs. Tiles are available in natural stone styles.
Vivero is an all-plank collection, with widths ranging from narrow to extra-wide. Choose from traditional, exotic and rustic hardwoods, as well as natural stone and even wood-meets-stone styles.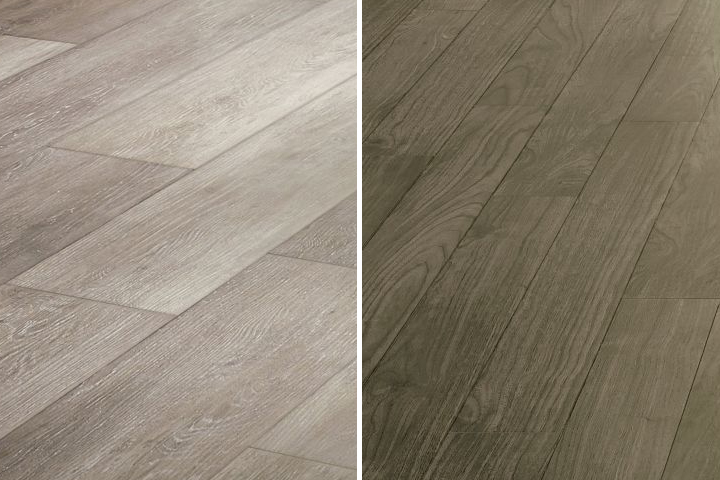 What are my luxury vinyl tile installation options?
Generally speaking, luxury vinyl tile is one of the easier flooring types to install, making it very DIY friendly. The specific installation method will depend on the product you choose.
Repositionable self-adhesive installation – With this quickest, easiest method, you just peel off the backing and put the tile or plank in place, then reposition as necessary, even after the floor has been lived on. Available with our Luxe Plank FasTak products.
Floating floor (angle locking) installation – This method requires no adhesive. Simply connect planks to each other on an angle, then snap into place. The flooring "floats" over the subfloor. Armstrong Flooring products feature a few different angle locking methods. Available with our Luxe Plank Rigid Core Technology.
Glue-down installation – This is a traditional full-spread adhesive that you spread over the subfloor with a trowel before laying down planks. Available with all our Vivero products.
Whether you choose to let the pros handle your installation, or if you're up for a DIY project, we offer tips and step-by-step instructions that will help.