Guide to Flooring Types
Learn about the different types of flooring and which might be the best choice for your home.
Do you need a little more information to help you choose the right flooring for your project? Here's a brief overview of our different types of flooring and where they can be installed — plus a little of what you can expect regarding durability and style options. 
Luxury Vinyl Flooring
Also known as luxury vinyl tile (LVT), this type of flooring comes in wood and stone looks that are designed to resist moisture and everyday wear and tear in the most active homes.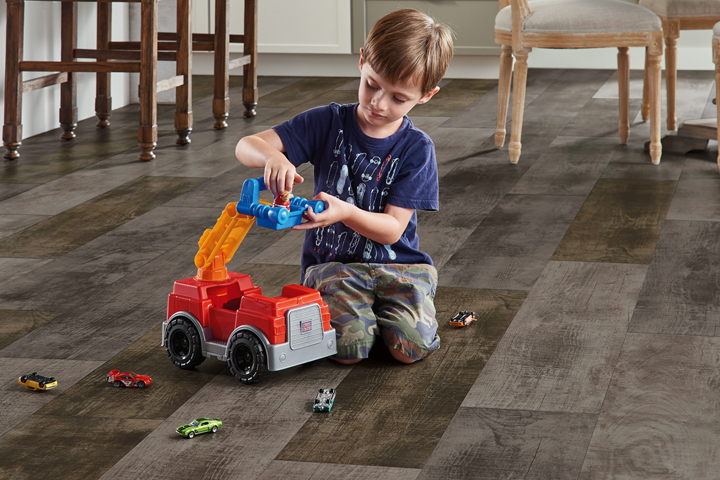 Where can luxury vinyl be installed?
LVT is the perfect type of flooring for bathrooms, kitchens, basements and laundry rooms, but it can be installed anywhere in your home. There are even options that allow you to easily install over subfloors with minor irregularities.
How durable is this type of flooring?
Luxury vinyl is very durable and easy to clean. In fact, our luxury vinyl collections are 100% waterproof, so they won't swell, buckle or lose integrity when exposed to water. And while all LVT products are scratch, stain and wear resistant, you can choose between different performance levels. Some come with the superior scratch-and-stain resistance of Diamond 10® Technology, making them tough enough to be backed by our lifetime warranty!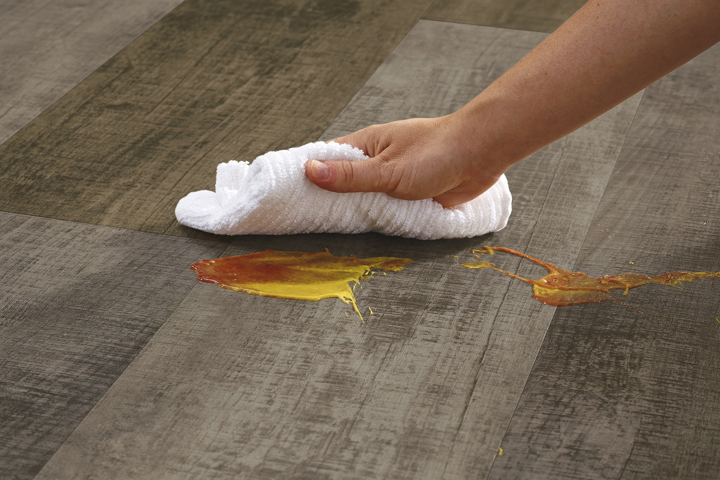 What styles are available with luxury vinyl flooring?
The kind of trends you might see in hardwood planks or natural stone tiles can often be found in luxury vinyl. Traditional, rustic and exotic woods in plank sizes as wide as 7". Travertine or marble-mimicking tiles. Modern industrial designs inspired by concrete or petrified wood. So many options means it's easy to find a floor that does what you need it to do, but is really stylish, too.
HOW TO CHOOSE THE BEST LUXURY VINYL FLOOR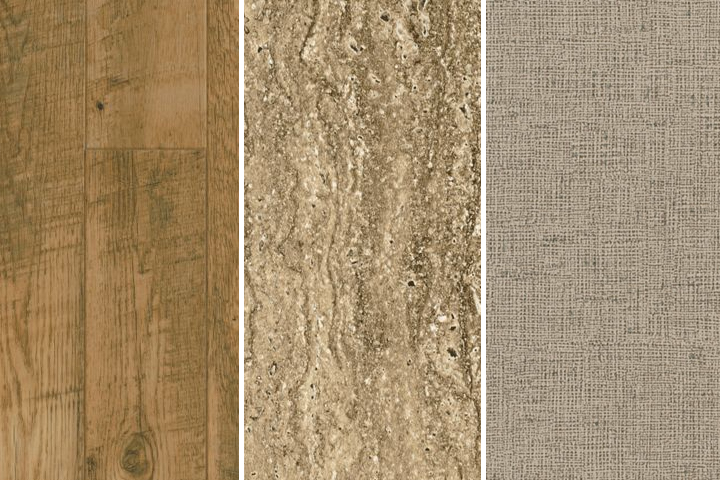 Engineered Tile Flooring
This type of flooring is engineered with 70% limestone and other resilient materials to be the perfect alternative to natural stone, porcelain or ceramic tile. It has the character and longevity you love about traditional tile, but it's warmer and softer under-foot.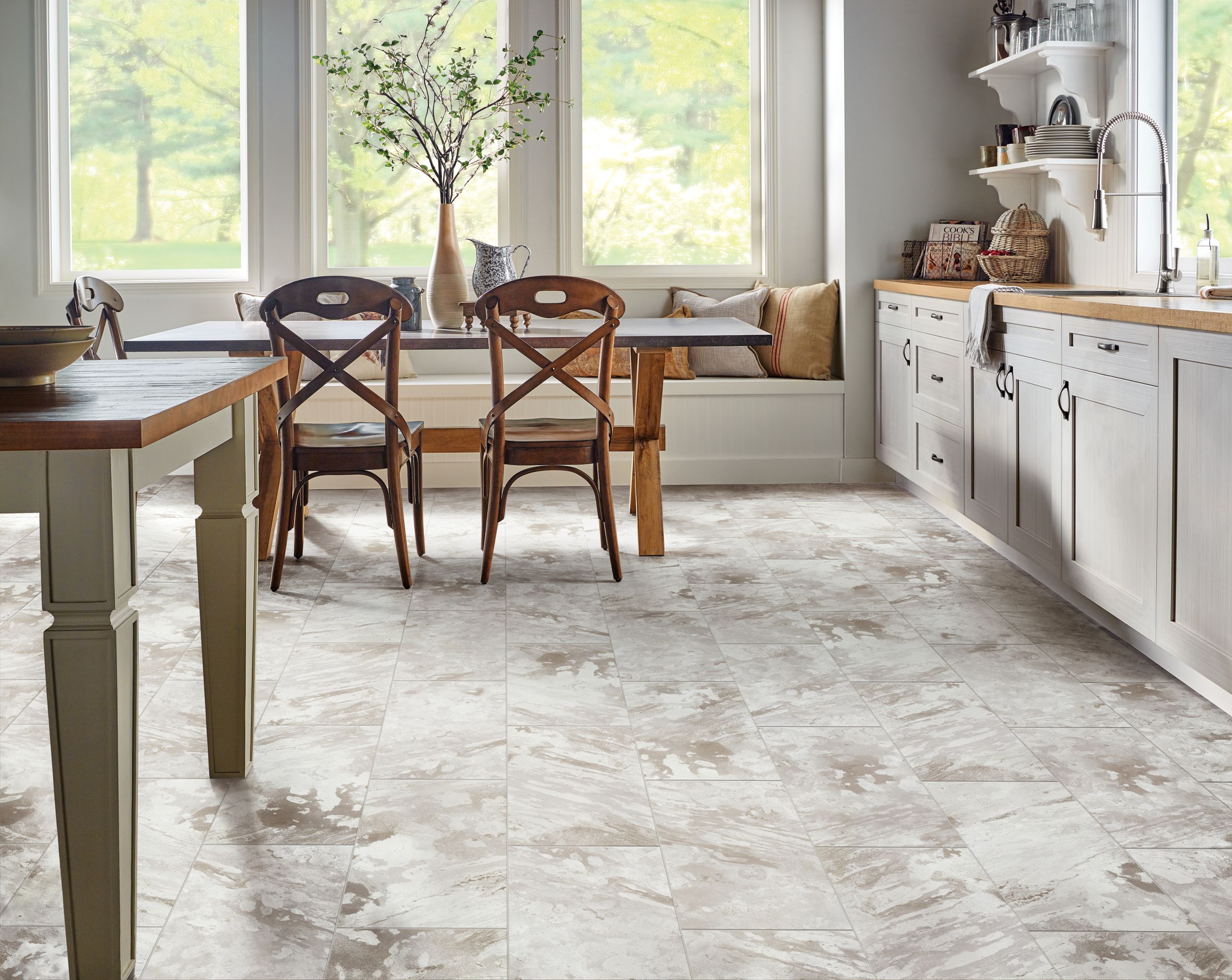 Where can engineered tile be installed?
Engineered tiles can be installed anywhere in the home, with or without grout. It's ideal for high-moisture areas like kitchens, bathrooms, basements and laundry rooms — and even on the wall as a backsplash or accent wall! And unlike ceramic tile, engineered tile can be installed over minor subfloor irregularities without the risk of cracking.  
How durable is this type of flooring?
At Armstrong Flooring, our engineered tile styles are all backed by our lifetime warranty. This flooring type is built to handle all the things you need your tile floors to handle: high traffic, spills, messes and dirt. Even the grout is stain resistant. And if you drop heavy objects on engineered tile, it's not vulnerable to cracks like natural stone can be.
What engineered tile styles can I choose from?
There are many styles you can achieve with engineered tile, starting with classic slate, terracotta, travertine and marble — all the way to tiles that resemble reclaimed wood and linen fabric. Explore pattern possibilities, on-the-wall looks and how different tile sizes and shapes can alter the look of your space in stunning ways.
HOW TO CHOOSE THE BEST ENGINEERED TILE FLOOR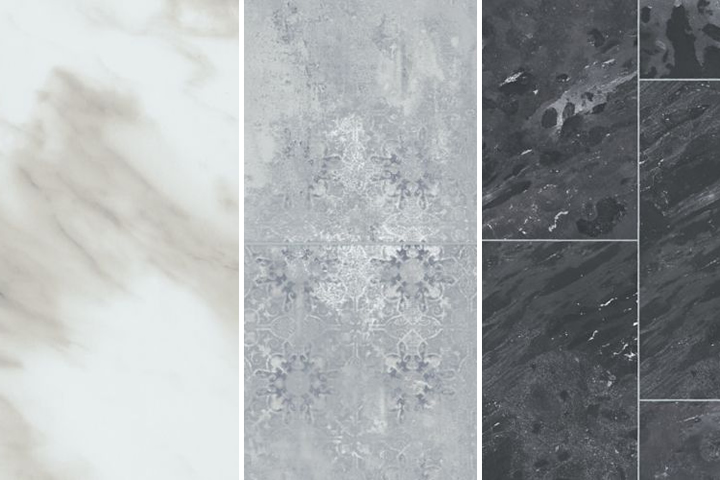 Rigid Core Flooring
Maximum durability and award-winning design are the hallmarks of rigid core flooring. It has a layered structure that features the best attributes of multiple flooring types, including luxury vinyl and laminate. Rigid core flooring features many of the durability characteristics of traditional luxury vinyl tile, but with greater dent resistance and design realism.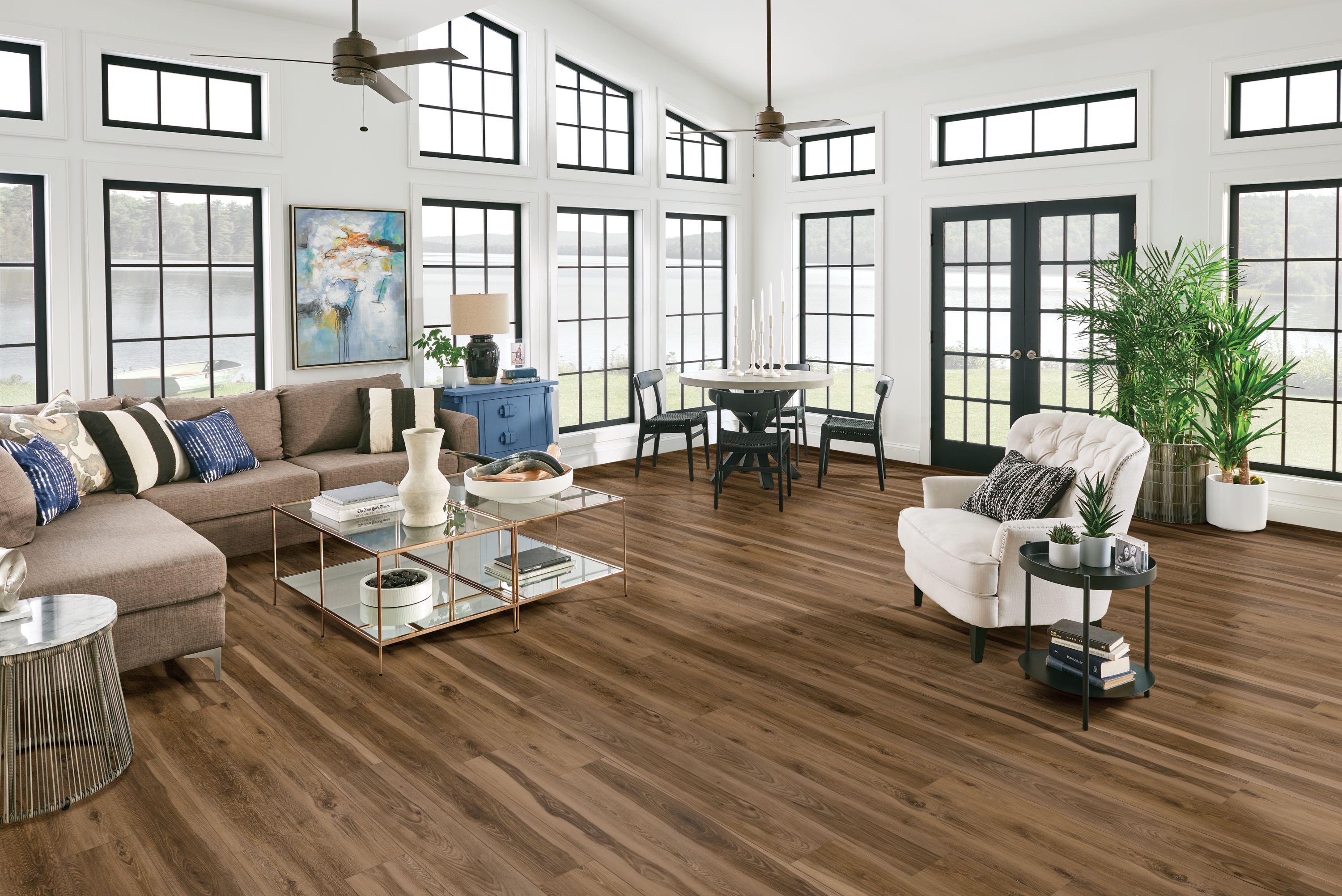 Where can rigid core flooring be installed?
Enjoy this flooring type in any room of your home. It's durable enough for the highest traffic and most moisture-prone rooms, and beautiful enough with its realistic hardwood designs to elevate the style of your main living spaces and bedrooms.
How durable is this type of flooring?
Rigid core flooring, unlike many other types of flooring, offers the ultimate dent resistance against things like dropped objects and high heels. It's also 100% waterproof, so when exposed to water the planks will not swell, buckle or lose integrity.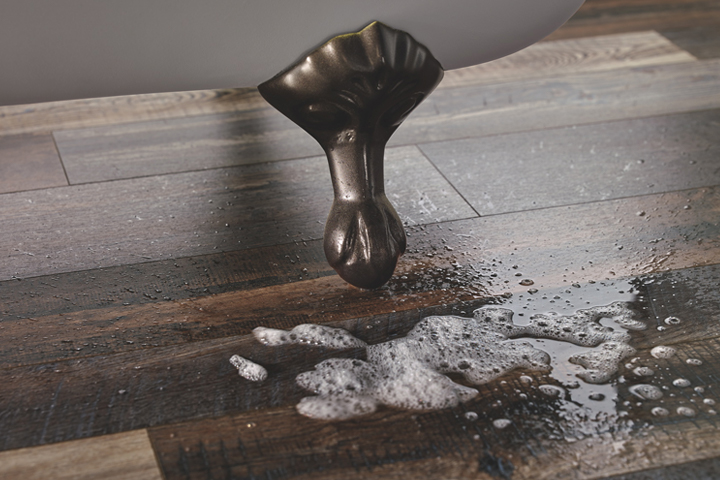 What kinds of styles are available with rigid core flooring?
Rigid Core flooring boasts highly realistic visuals and textures that resemble real natural hardwood. Capture the look of traditional wood floors or trending rustic, reclaimed and brushed wood looks.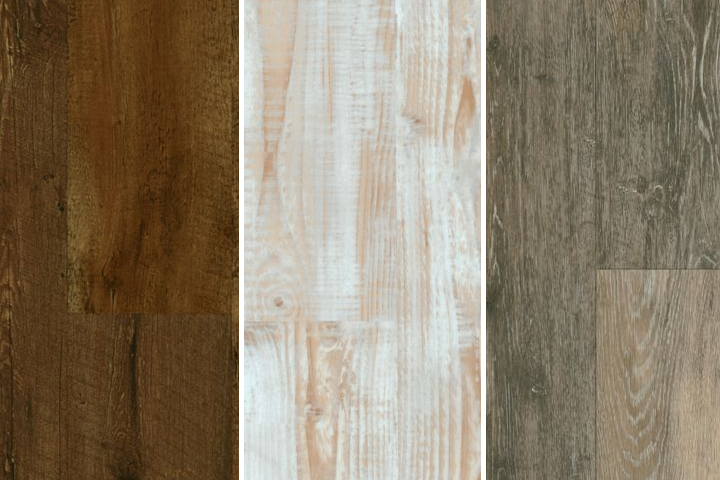 Vinyl Sheet Flooring
Vinyl sheet is a resilient type of flooring that comes in a large roll, cut to size. We offer a range of options that are customized to meet your budget and lifestyle needs.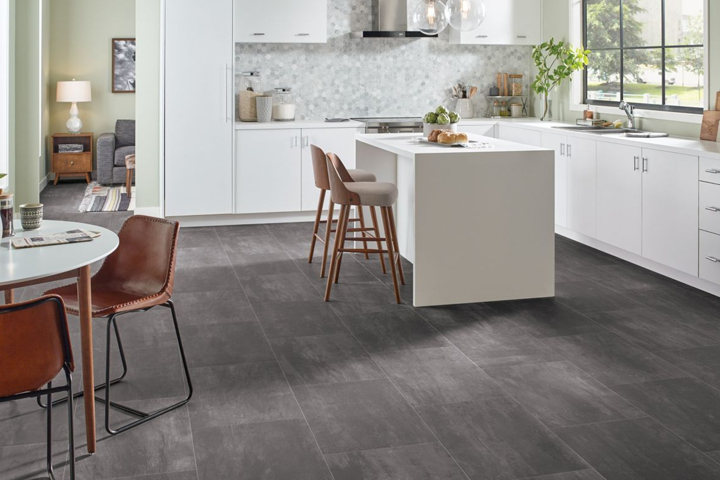 Where can vinyl sheet flooring be installed?
Vinyl sheet is durable enough to be installed anywhere in the home, and its single solid surface makes it a good choice for moisture-prone kitchens and baths.
How durable is this type of flooring?
We offer three performance levels for vinyl sheet, with different durability and comfort features. Our highest performing vinyl sheet collection, CushionStep™ Better, features Diamond 10® Technology for superior scratch, scuff and stain resistance.
What vinyl sheet flooring styles can I choose from?
Vinyl sheet is often turned to as an alternative flooring type for homeowners who want the look of natural stone, ceramic tile or even hardwood, for less. Cutting-edge print technology produces realistic limestone, sandstone, slate, traditional hardwood and exotic hardwood looks, as well as alternative styles and patterned designs like black-and-white checkerboard.
HOW TO CHOOSE THE BEST VINYL SHEET FLOOR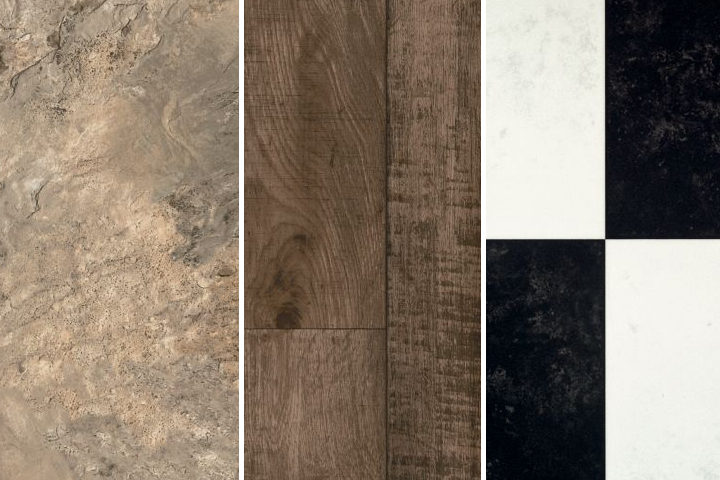 Vinyl Tile
Vinyl tile is a great type of flooring for do-it-yourself projects. With peel-and-stick installation, it's easy to transform your room over a weekend. Like vinyl sheet, tile is durable, affordable and low-maintenance.
Where can vinyl tile flooring be installed?
This flooring type can be installed on any flat and level surface besides stairs, and is typically used for kitchens, bathrooms, mudrooms and playrooms.
How durable is this type of flooring?
Under normal household use, vinyl tile holds up well against foot traffic, kids and dropped objects. Our vinyl tile flooring is warranted for 5 to 10 years.
What vinyl tile flooring styles can I choose from?
Most vinyl tile comes in 12" x 12" square tiles and you can select from looks that resemble stone tile, porcelain tile and parquet wood, as well as classic geometric and checkerboard patterns.
HOW TO CHOOSE THE BEST VINYL TILE FLOOR