Black & White Vinyl Flooring
Learn how to bring the iconic checkerboard look into your home.
Whether your style is streamlined and sophisticated or quirky and retro, the distinctive character of a black and white tile floor allows you endless opportunities to create a fresh, dynamic look. Here are three types of flooring that make it possible.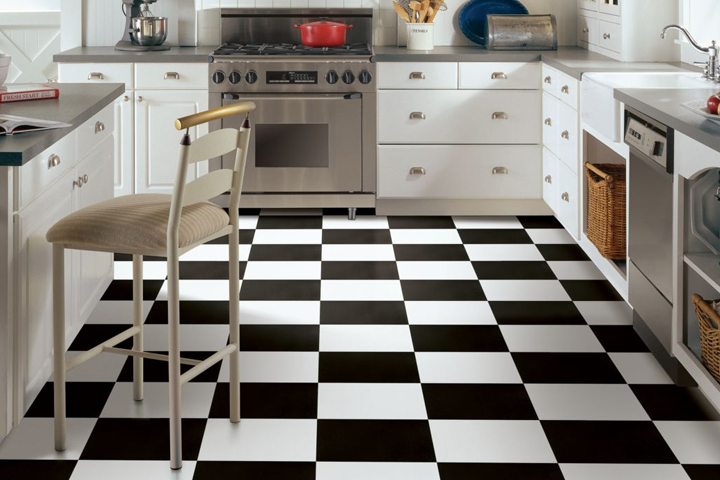 Banbury Collection - Norwalk Vinyl Tile - Black & White | A7102 & A7100
Vinyl Tile
Vinyl tile is a classic when it comes to black and white flooring — and for good reason. Strong, durable and affordable, vinyl tile is a great choice for kitchens, bathrooms, basements, or any room where you need an easy-care floor that can stand up to lots of activity.
With a fast and clean peel-and-stick installation, it's also really simple to do yourself. Simply order half of your flooring in black, and half in white, and alternate during installation.
For an elegant variation on the checkered floor look, consider white vinyl tile with a black diamond dot pattern. It's perfect for bathrooms and entryways. You can also make a room come alive by setting black and white vinyl tiles on a diagonal to create an energetic diamond motif.
Vinyl Sheet
Black and white checkered floors can be easily achieved with vinyl sheet, which comes on a roll as a single solid sheet. Vinyl sheet offers three different performance options, which vary in durability, comfort and the length of their warranty. Collections with Diamond 10® Technology feature superior scratch and stain resistance.
With no (or very few) seams, vinyl sheet is a terrific option for moisture-prone rooms like bathrooms and laundry rooms. And it repels spills and stains for easy cleanup, so your checkerboard floor will always look fabulous.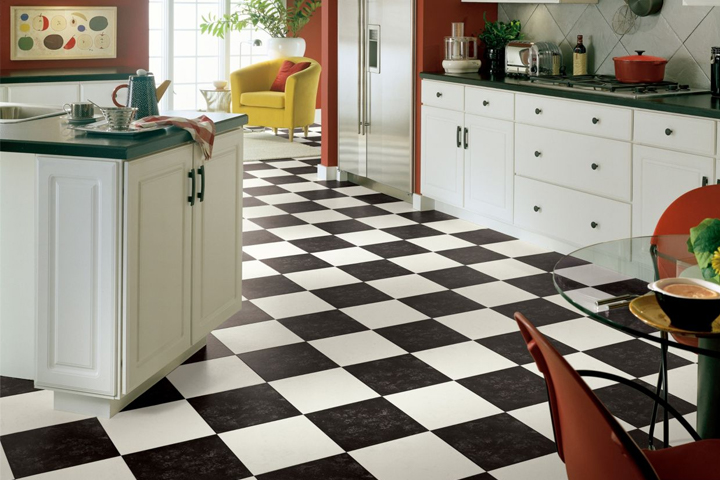 Landmark I Collection - Bessemer Vinyl Sheet - Black/White | G6A23
 
Engineered Tile
The Alterna engineered tile collection delivers a number of possibilities. Opt for the look of solid stone black and white tile, or go for dramatic texture with a combination of frosty Carrara marble and charcoal slate.
With Alterna, you get a natural-looking floor that shows realistic veining and clefts and texture you can actually feel. And it suits active lifestyles too. While your black and white checkered floor looks like real stone, it performs and cleans without a care, and easily handles accidents and drops, pets and kids. Plus, it's much warmer and more comfortable underfoot than natural stone or ceramic flooring.
Alterna can be installed in any room of the house.
BROWSE ALTERNA ENGINEERED TILE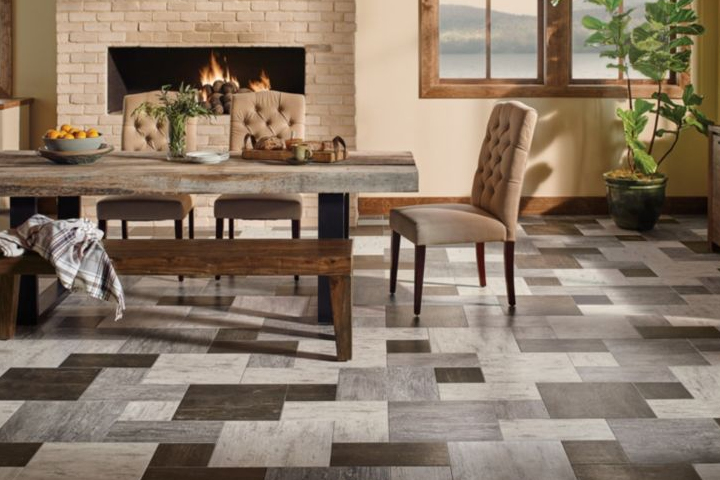 Alterna Reserve Collection - Grain Directions - Antiqued Ivory | D8365