Flooring Trim & Molding
Why floor trim and molding are the essential finishing touch for any flooring project.
Flooring trim is a must-have design and installation component that often gets overlooked in the buying process. Discover the importance of these finishing touches and see all your options for luxury vinyl tile floors.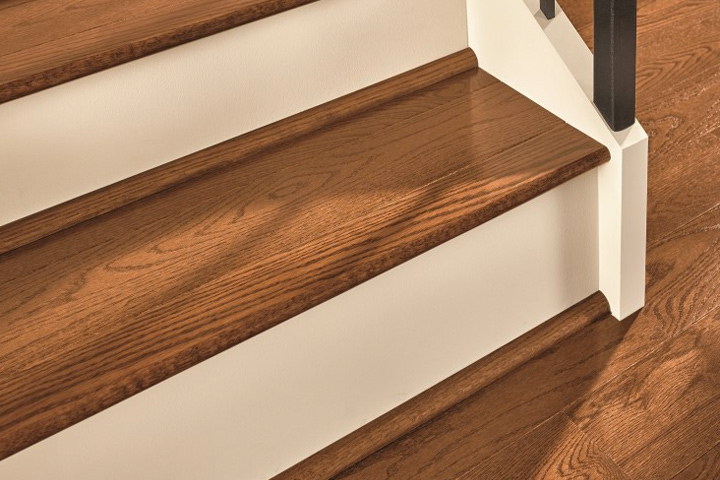 Flush Stair Nose & Quarter Round Molding
Why are trim and molding so important to flooring installation?
Flooring trim and moldings are both functional and decorative, whether you are installing a luxury vinyl or engineered tile floor.
These pieces complete the flooring project by covering unsightly edges and gaps, hiding joints left for expansion and contraction, and bridging areas where one floor covering ends and another one begins. Trim and molding also enhances the beauty of your floors and provides continuity. The subtle, yet defining, visual effect of perfectly coordinated or matched trim makes floors look sophisticated and satisfyingly complete.
Which Armstrong Flooring products have coordinating trim?
Armstrong Flooring offers a wide selection of coordinated trim and molding to complete almost any hardwood, laminate, luxury vinyl tile or engineered stone tile look. To find the coordinating trim and molding we recommend for your particular flooring, look at 'Trim and Moldings' under the 'Installation' section on the flooring product detail page.
To add visual space to a room, choose trim and molding that closely matches your flooring in color and style. For example, if you're going for a rustic look with Oak hand-scraped hardwood flooring, you'll want to select trim and molding that complements the Oak species with a scraped surface treatment.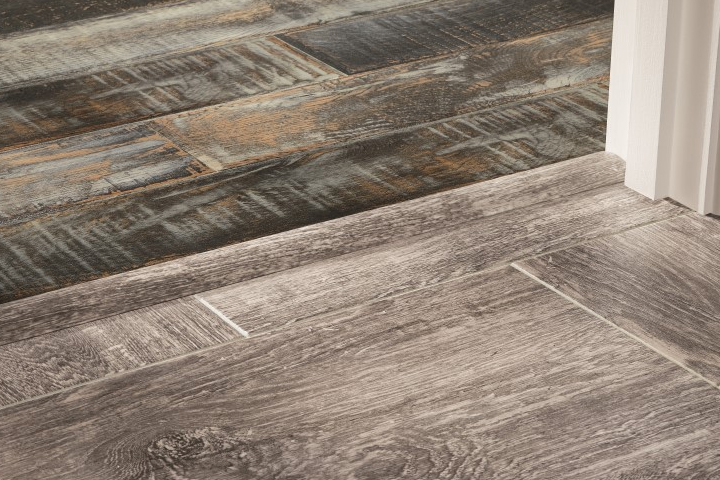 We offer coordinating trim and molding pieces for most of our floors. Many are an exact match, which means we've created a digital 1:1 match of the color and style, providing a seamless transition between flooring and trim.
Here are our products or product lines which offer coordinated or matching trim and molding. The specific types of trim available will vary depending on the product.
What types of flooring trim and molding are available?
Looking for flooring trim ideas? Armstrong Flooring offers several types of flooring trim and molding. Here's an overview of each piece, and how it can be used to complete your overall flooring design. Of course, always refer to the specific installation instructions provided with your particular flooring product.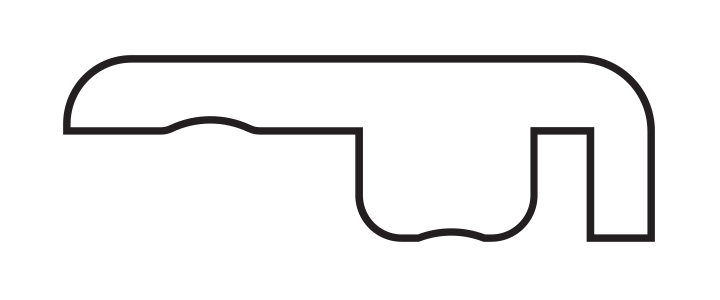 Threshold Molding
Also known as a baby threshold, this threshold molding is commonly used in doorways to finish the edge where flooring ends. It hides seams against sliding door tracks, fireplaces, carpet and tile, and provides a smooth transition between floors of different heights. It can also be used where quarter round molding and wall base molding cannot be used.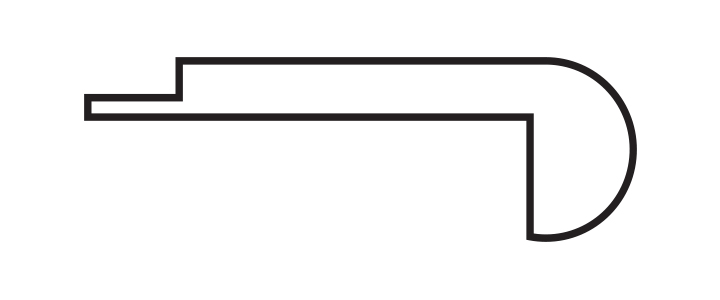 Flush Stair Nose
A molding undercut that is used on stair steps, stair landings and elevated floor perimeters. It protects edges that take the brunt of foot traffic in these areas, while enhancing the beauty of the flooring. Stair nose connects on the same level as the flooring surface for a smooth, finished appearance.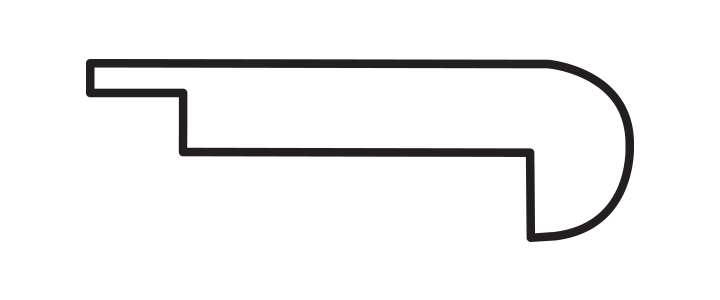 Overlap Step Nose
Used where the flooring meets a step down or landing to protect the edges and provided a finished look. Different from flush stair nose, overlap step nose has a slightly raised profile that overlaps the flat flooring surface.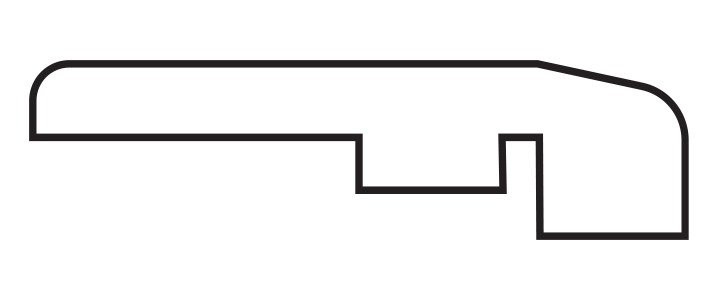 Reducer Strip
A multi-purpose molding with a slight slope designed to make a smooth transition between floors of different heights or different types of flooring, such as between laminate or hardwood and carpet. It is also used as a design element around fireplaces, doorways and other vertical surfaces, and as a room divider.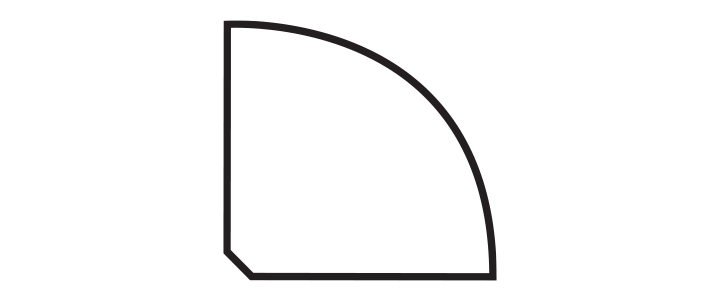 Quarter Round Molding
A curved molding that covers the seams or expansion space where flooring meets with baseboards, cabinets and steps.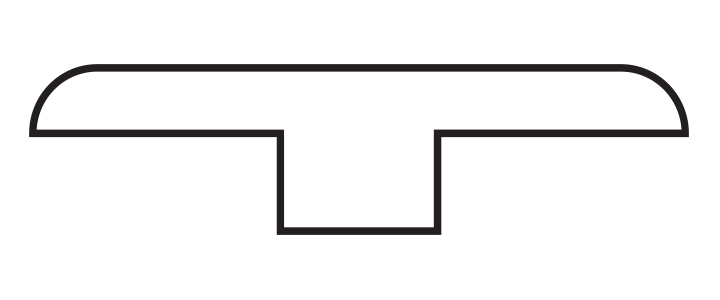 T-Molding
A molding used as a transition piece from one flooring surface to another of equal height or to join hardwood floors between two rooms, such as in doorways. T-molding can also be used to conceal joints left for expansion and contraction.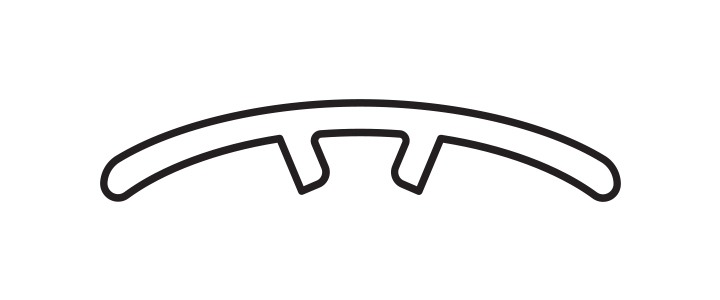 Multi-Purpose Trim
Used to transition between different flooring types of the same height or different heights. It can also be used as a T-molding or surface reducer.