Wood-Look Vinyl Flooring
Love the look of hardwood? Recreate this timeless style with vinyl flooring that looks like wood.
There's a lot to love about hardwood flooring, but there may be times when vinyl is the best fit. Read about why wood-look vinyl flooring may be the right choice for your project — and what kinds of options you have if you decide to go this route.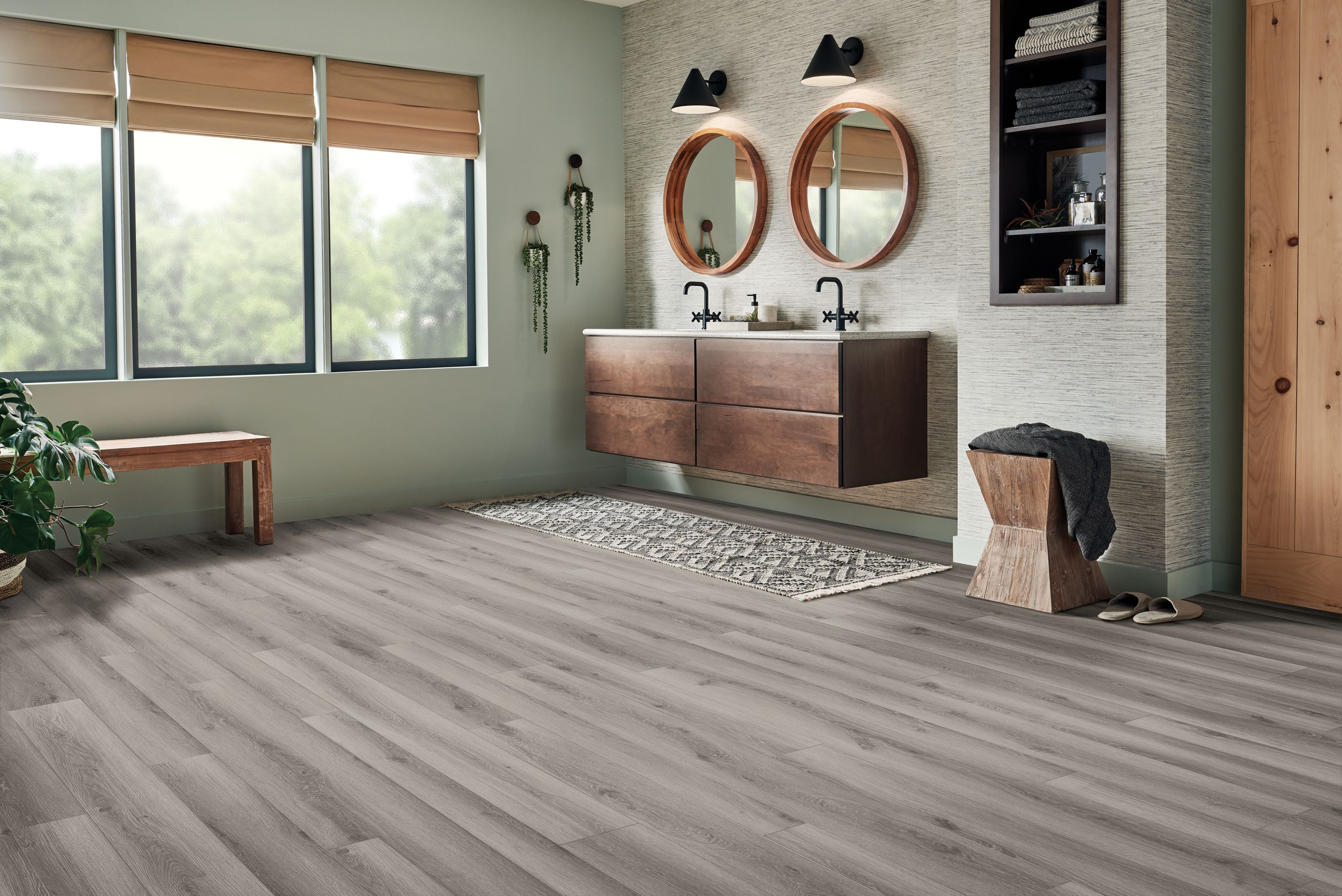 What is vinyl wood-look flooring?
Wood look vinyl is flooring that is designed to closely mimic the wood grains, colors and even textures found in natural hardwood flooring. You can find it in long plank shapes to resemble individual hardwood boards, single vinyl sheet designed to look like multiple boards, or even parquet-style tiles.
If you're planning a project and are considering vinyl flooring with a hardwood look, there are two types of vinyl worth checking out: luxury vinyl tiles or planks (also known as LVT or LVP) and vinyl sheet. Both offer a wide selection of wood styles, plus products with different performance levels and installation methods.
When does it make sense to opt for vinyl that looks like wood?
When people choose vinyl that's designed to look like hardwood, it's often because they love the timeless style of hardwood, or how well wood flooring coordinates with almost any interior design — but for some reason, hardwood isn't the right fit for their particular project.
Challenging Installation Locations
Since hardwood is not recommended for moisture-prone areas like bathrooms and laundry rooms, you might opt for a vinyl floor that achieves the same look. Vinyl sheet is a great choice for these spaces because it has no (or very few) seams and its surface is incredibly resilient. Luxury vinyl tiles and planks — whether traditional LVT or rigid core — aref 100% waterproof so when exposed to water, they will not swell, buckle or lose integrity.
If you want to achieve a wood look in the basement, luxury vinyl tiles, luxury vinyl planks or vinyl sheet are suitable alternatives to solid hardwood.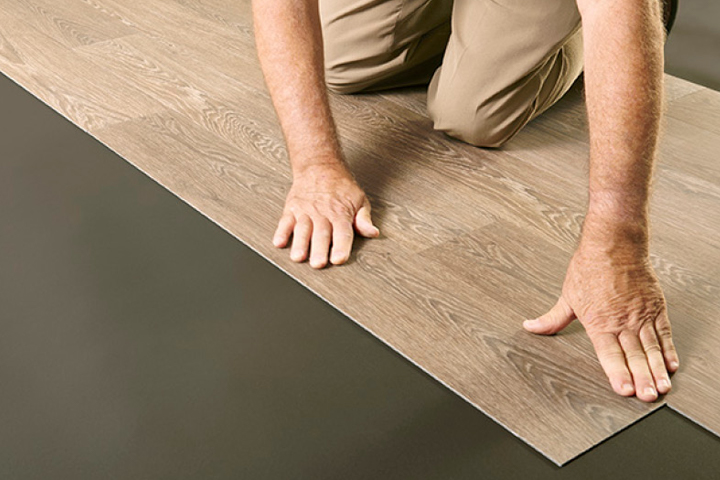 High Traffic Areas
Because luxury vinyl and vinyl sheet are designed to stand up to scratches, stains, spills and everyday wear, they are perfect for rooms with lots of foot traffic and households with active families and pets.
Many collections within these categories offer enhanced levels of protection — whether it's collections featuring the superior scratch and stain resistance of Diamond 10® Technology, or rigid core flooring with its hardened wear layer.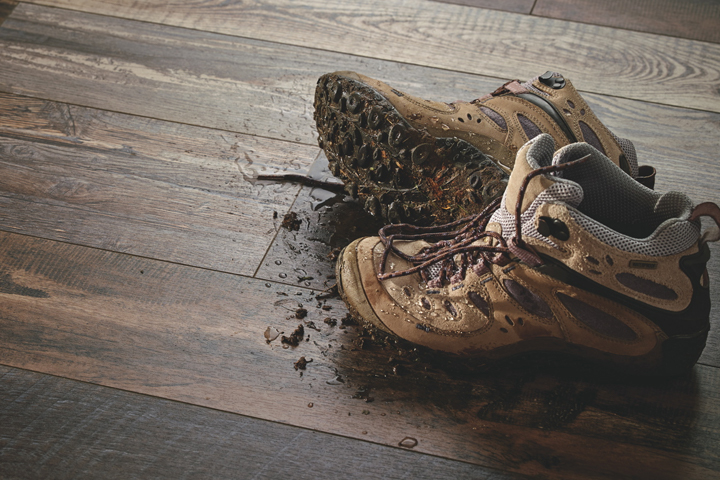 Practical Budget
Depending on the style and performance level you choose, vinyl flooring can be a perfect alternative when a wood look is desired, but natural hardwood isn't in the budget.
Ease of Maintenance
Luxury vinyl and vinyl sheet are incredibly easy to care for. These floors repel soil and spills so just a quick wipe-up or a sweep and mop is usually all you need to do.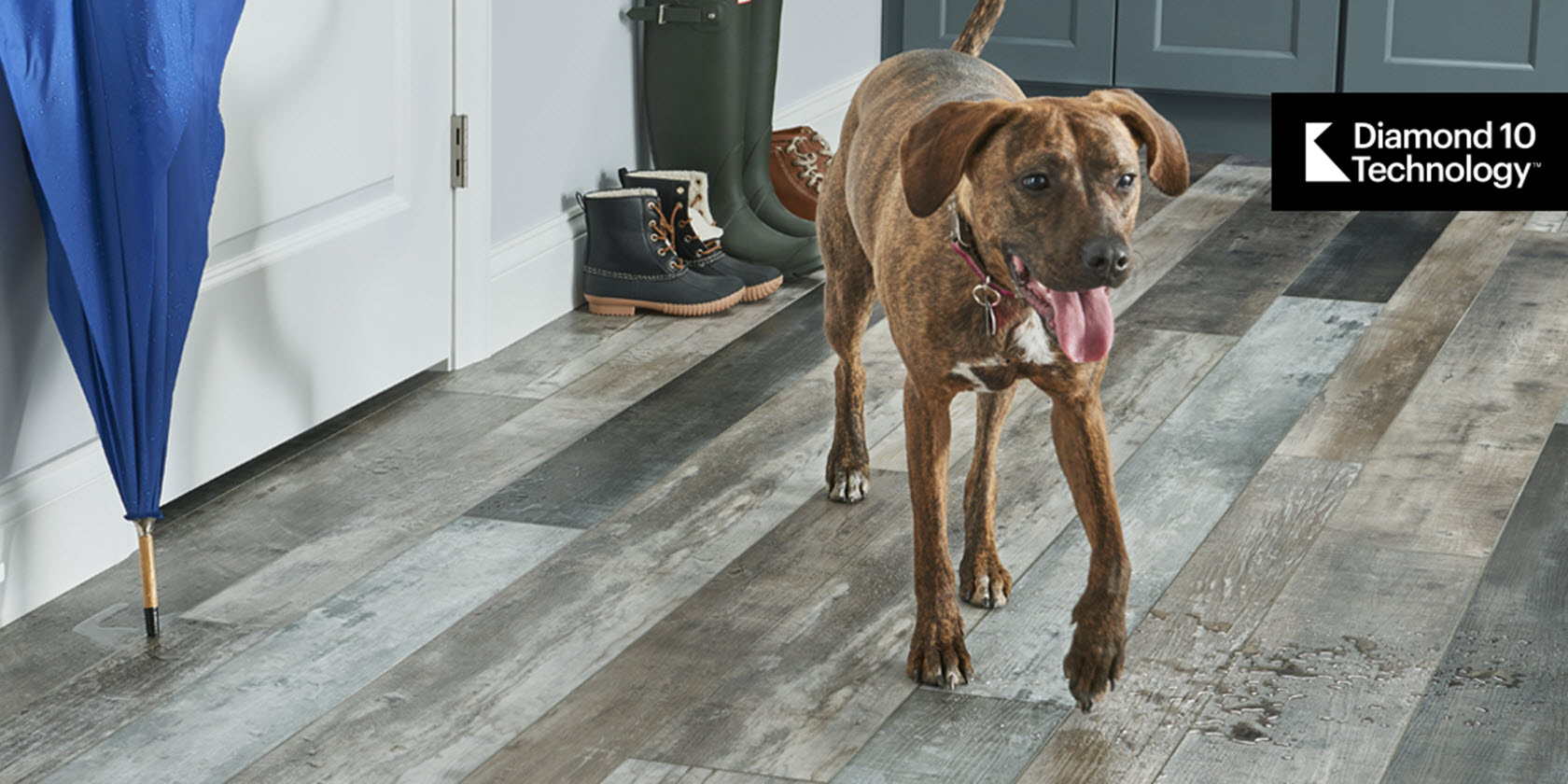 Ease of Installation
Maybe you'd never dream of installing a hardwood floor yourself, but wood-look vinyl can be quite DIY-friendly. Self-adhering luxury vinyl tile and planks with our FasTak installation use a repositionable, pressure-sensitive adhesive, and most other vinyl flooring can be floated with boards that lock to each other and require no adhesive.
Luxury vinyl flooring is also well suited to be used over subfloors that have minor irregularities.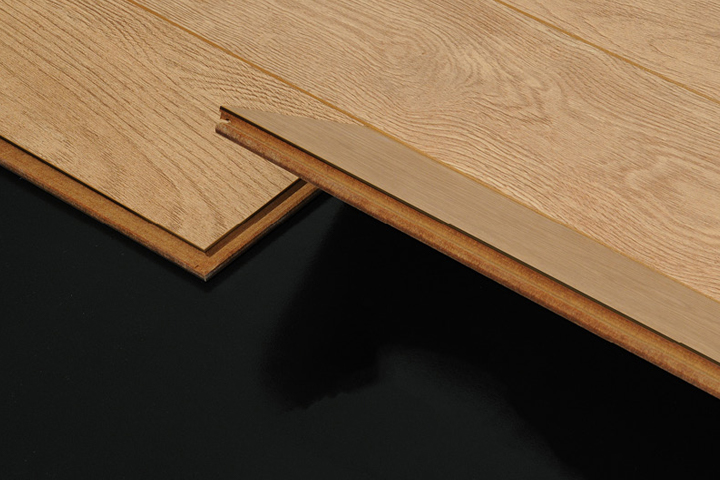 What kinds of wood styles are available in vinyl flooring?
Floor shoppers are always pleased to discover that the latest looks in hardwood flooring can often be achieved with many types of vinyl.
Variety of Species
There's a vinyl version of just about every wood species — from classic American Oak, Maple and Hickory to exotics like Acacia and Tigerwood. And with wood-look vinyl, limitations like the rarity of a species or hardness of a wood will not come into play like they would for hardwood flooring. For example, some exotic woods are so hard that it's difficult to make them into hardwood planks and installation becomes challenging. This can also impact price. For someone who wants the stand-out style of a rare exotic species, vinyl can be an excellent choice.
Weathered and Rustic Textures
Capture a vintage vibe with wood look vinyl designed to show years of age or exposure to the elements. Weather-worn driftwood boards, reclaimed timber or artisan hand-scraped planks are just a few of the trend-setting styles available in luxury vinyl and vinyl sheet.
You'll find many options with embossed texture, which means what you see on the floor and what you feel are a match. On these floors, the same characteristics found in natural wood, like knots and filled splits, are recreated with astounding realism.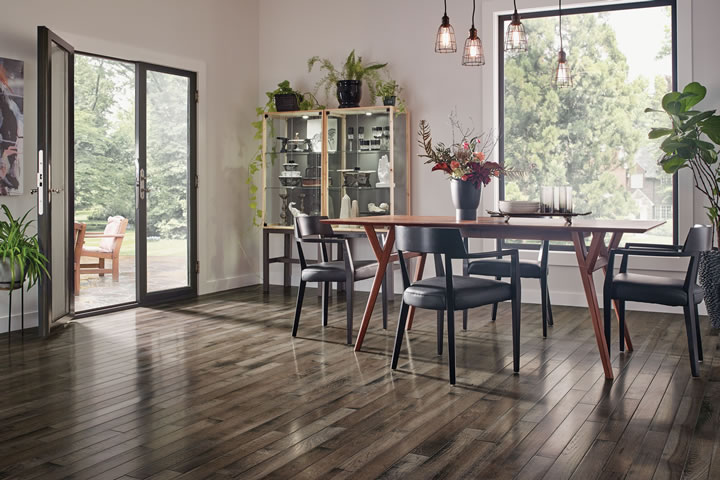 Variety of Sizes
Planks and tiles that look like wood come in various shapes and sizes. Plank-shaped tiles are the most popular, especially on-trend wide-width planks 5" and up. Some designs, especially higher end ones that mimic the look of reclaimed hardwood, also come in mixed widths for a more authentic overall appearance.
Where can I shop for vinyl flooring that looks like wood?
Armstrong Flooring offers an expansive collection of vinyl flooring in styles resembling hardwood. Any style you choose will bring long-lasting beauty and durability to your home. Explore our products online, then visit a retailer near you.