What's the difference between linoleum and vinyl flooring?
Take a closer look at the similarities and differences of two resilient floors.
If you're like most people, there is a good chance that you're getting the terms 'linoleum' and 'vinyl sheet' mixed up. Many people believe that these flooring products are one in the same, but that's simply not true.
And while a lot of people are under the false impression that linoleum and vinyl sheet flooring are interchangeable, this thought process can lead to regrettable purchasing decisions and leave you with a less-than-satisfactory product in your home.
Linoleum flooring was the go-to for decades, however, its heyday has come and gone. This is largely due to the introduction of vinyl sheet, as it is far more resilient, requires less upkeep, and is available in a slew of modern, on-trend designs and patterns.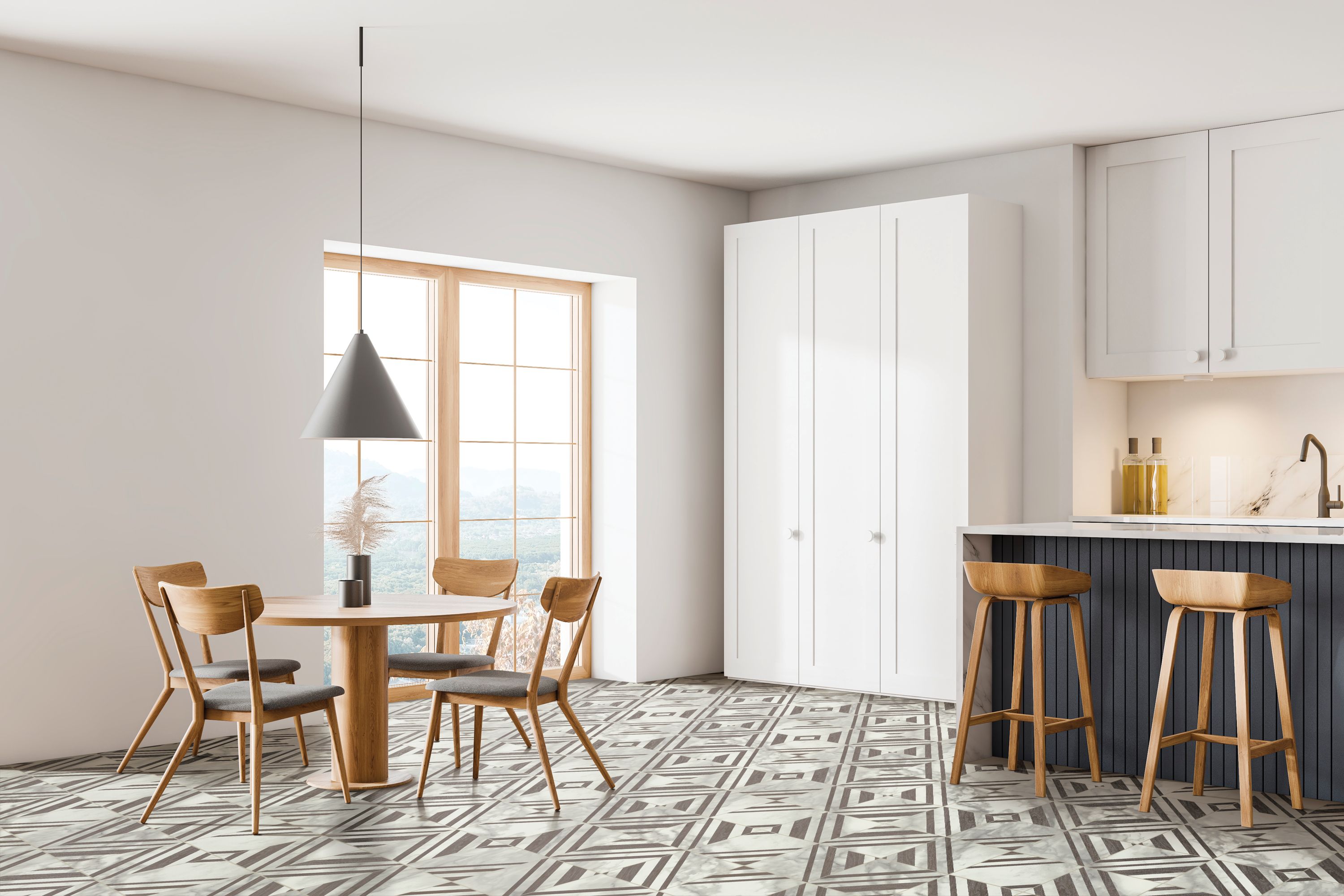 CushionStep | B3415
So, outside of aesthetics, what are the key differences between these oft-confused flooring solutions?
Water Resistance
If you're installing flooring in your bathroom, kitchen, or mudroom, vinyl sheet is a much safer option than linoleum. Linoleum, which is comprised of cork and wood materials, is highly susceptible to water damage.
On the other hand, Vinyl sheet flooring thrives in high-moisture areas. Since our vinyl sheet is manufactured with synthetic materials and has a waterproof surface, it is a great option for the areas of the home mentioned above.
Maintenance and Upkeep
When it comes to the upkeep of your floors, linoleum pales in comparison to vinyl sheet. The water-resistant problems listed above certainly play a role, but there are other things to consider when deciding between the two.
For example, linoleum floors typically need to be sealed once or twice per year, whereas vinyl sheet flooring does not. Linoleum is also less resilient and can be easily scratched or gouged, leaving homeowners with unsightly flaws in their flooring.
Not only does vinyl sheet require less maintenance – the occasional damp mop and sweep is all you need – but it's far more resilient and less likely to be permanently damaged by footwear and day-to-day life.
DIY Installation
Lastly, if you're of the do-it-yourself variety, vinyl sheet flooring is much easier to work with than linoleum. Armstrong Flooring's vinyl sheet products are manufactured with a flexible fiberglass backing to make installation easier, whereas linoleum is stiff and can be difficult to work with in tight areas.
In addition to the pride you'll feel from a job well done, the ability to do-it-yourself can also result in substantial cost savings, as you don't have to pay a team of professionals for the installation.